Recent Doordash Commercial Actors are Jason Biggs and Seann William Scott, reprising their roles from American Pie. Also, Matty Matheson in Super Bowl Ad 2023. The food delivery platform has become a household name in the commercial world, attracting consumers with its engaging and memorable adverts. It has used the talents of numerous performers to bring its advertisements to life over the years.
The delivery platform takes a nostalgic turn in 2023, incorporating stars from the iconic film American Pie in their "Best Summer Ever" commercial cast.
In addition, in their Super Bowl commercial, they featured notable culinary luminaries such as Matty Matheson and Raekwon the Chef. Let's go into the specifics and learn about the actors that have appeared in DoorDash's latest commercials.
Key highlights:
Doordash Jason Biggs's commercial is trending on the internet.
Doordash summer commercial "Best Summer Ever" featured none other than the iconic duo from the late '90s hit movie American Pie.
Doordash commercial guy: Jason Biggs and Seann William Scott, reprising their roles from American Pie
Doordash commercial Actors: Best Summer Ever & Super Bowl 2023
This Food ordering and food delivery platform understand how to create a superb cast for compelling advertisements. They assembled a group of excellent actors in 2023 who left an indelible impression on spectators.
From the nostalgic charm of Jason Biggs and Seann William Scott recreating their roles from American Pie to Matty Matheson's culinary ability and Raekwon Chef's musical magnetism, DoorDash's advertisements featured a variety of engaging talent.
With each performer bringing their own charm and personality to the screen, DoorDash ensured that their commercials were more than just advertisements, but unforgettable events that kept viewers anticipating their next delivery.
Let's go over each ad and discover some interesting facts and trivia about the Doordash commercial actors and their jobs.
You may also like: Newday USA Blonde actress: Juliana Folk
Best summer ever Doordash commercial Actors: Jason Biggs and Seann William Scott
DoorDash debuted its "Best Summer Ever" commercial in June 2023, evoking memories and recollections of a popular late-'90s film. The actors in this commercial are none other than Jason Biggs and Seann William Scott, who played Jim and Stifler in the 1999 film American Pie, respectively.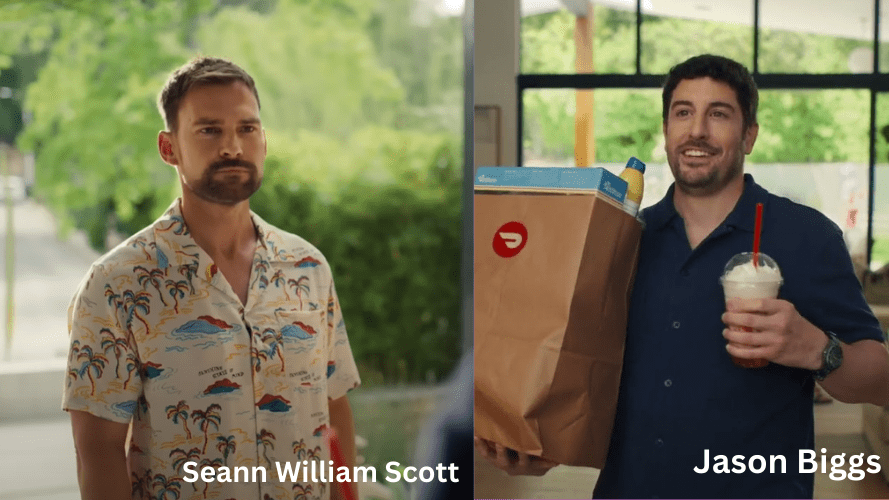 American Pie, directed by Paul Weitz, became a cultural sensation, engaging with audiences and gaining a devoted fanbase.
The plot of American Pie centers on a group of high school classmates who strike a vow to lose their virginity before their prom night. The film introduced us to individuals such as Jim, Kevin, Chris, Paul, and Stifler, each of whom embarked on their own amusing and occasionally embarrassing journeys to fulfill the deal.
Jason Biggs Doordash Commercial: Best Summer Ever
Jason Biggs' portrayal of Jim and Seann William Scott's portrayal of Stifler made an indelible impression on spectators, delivering classic scenes and quotable phrases that have withstood the test of time.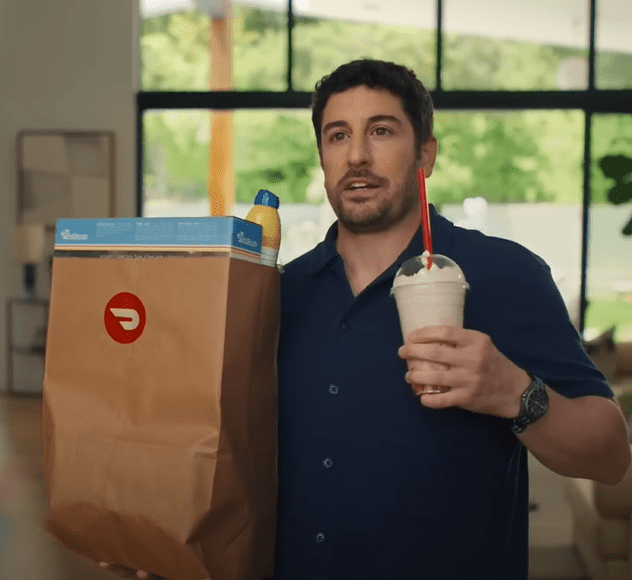 The "Best Summer Ever" commercial resurrects the spirit of American Pie, with Jim anticipating the start of a great summer by gleefully receiving a Doordash delivery. Stifler, ever the provocateur, confronts Jim, recalling the thrilling moments they enjoyed during the summer featured in the 1999 film.
The video deftly blends nostalgia with DoorDash's current offerings, implying that having DashPass back then may have altered everything.
We'll also learn about the actors in DoorDash's Super Bowl commercial, as well as their roles and why people liked this ad.
Doordash summer commercial: Watch & See people's reaction
The DoorDash commercial starring Jim and Stifler from American Pie in their "Best Summer Ever" reunion created a wave of excitement and nostalgia among viewers.
Real fans were overjoyed to see Jason Biggs and Seann William Scott reunited after all these years, with comments like, "It's fantastic to see them together again after all this time" and "OMG! I love seeing them together!"
Fans immediately expressed their desire for a fifth movie with the full gang, exclaiming, "We want American Pie with the original cast" and "It's time for American Vacation!"
No discussion of the commercial would be complete without mentioning Stifler, a fan-favorite figure. Viewers gushed about Stifler, with one screaming, "I love Stifler!" and another saying, "Long live the Stiffmeister!"
However, not all responses were overflowing with zeal. Some viewers pointed out technical flaws in the ad's altered version, encouraging the business to rectify it. They were dissatisfied with the storyline and questioned the effort put into the commercial.
Nonetheless, the American Pie duo's wit and charm captivated onlookers, prompting many to share their experience actively hunting for the ad online. "I am so glad I am not the only one who went through the effort of looking this ad up," one person joked.
The frequency of advertising on streaming sites such as Hulu sparked debate about whether the marketing technique was purposefully designed to stimulate interest and participation.
The Doordash summer commercial is an Edited version
Some viewers were disappointed because some of the funniest parts appeared to be taken out, resulting in a less understandable ad. "Except they edited out anything remotely funny so that the ad is completely incomprehensible," one commenter said.
Despite these criticisms, the commercial was successful in getting people to seek it out and participate in conversations about its content.
In conclusion, while the DoorDash commercial starring the American Pie combo elicited diverse reactions, the predominant mood was one of delight and longing for the cherished characters. As viewers reminisced about the memorable scenes from the American Pie series, nostalgia mixed with hilarity.
The commercial successfully reignited the passion for these characters, leaving viewers eager for more memorable reunions and unforgettable comedic moments.
DoorDash's Super Bowl Commercial Actors 2023: Matty Matheson and Raekwon
During the 2023 Super Bowl, DoorDash made a big impression with a star-studded commercial starring a diverse cast. Matty Matheson, known for his culinary prowess and hosting The Bear and It's Suppertime on Viceland, and Raekwon the Chef, a respected member of the legendary Wu-Tang Clan, were among the notable figures.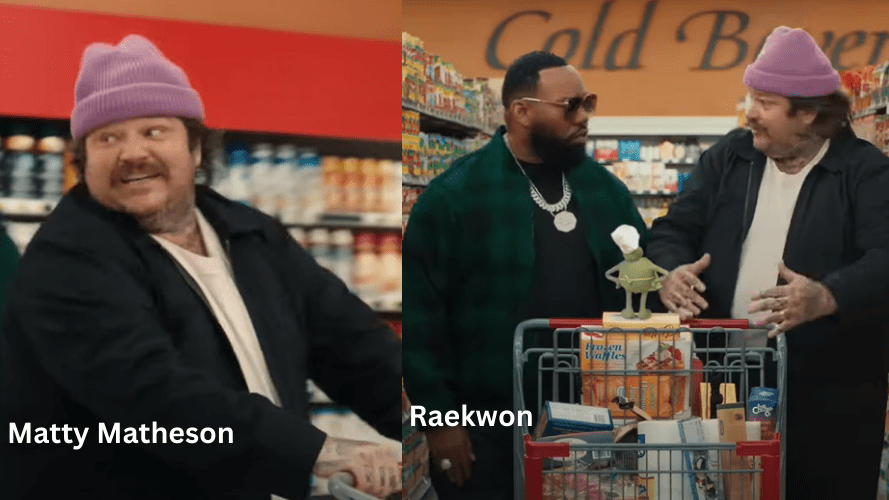 In this Super Bowl commercial, aptly named "We Get Groceries," Raekwon the Chef assists a customer with her grocery shopping, delivering her a container of cream and leading her to utter a memorable line from a Wu-Tang classic.
Matty Matheson can also be seen assisting clients in selecting the freshest pineapples.
The commercial demonstrates how DoorDash has expanded its delivery services beyond restaurants, emphasizing the company's capacity to meet a variety of culinary demands.
DoorDash's Super Bowl Commercial Cast
This 30-second video, directed by Kitao Sakurai, best known for his work on The Eric Andre Show, highlights the heart of DoorDash's commitment to delivering efficient delivery services for a wide range of products.
This fascinating commercial, created in conjunction with The Martin Agency and Superette, DoorDash's in-house creative studio, connected with consumers throughout the Super Bowl and afterward. You can watch the commercial here.
DoorDash's success in blending nostalgia with modernity
The ability of DoorDash to use nostalgia in its advertising demonstrates its knowledge of the power of collective memories and shared experiences. DoorDash capitalized on the emotional connection that fans of American Pie have with these characters by incorporating Jason Biggs and Seann William Scott in the "Best Summer Ever" promo.
It not only recalled wonderful memories but also demonstrated how DoorDash blends smoothly into people's life, even during the most memorable seasons.
DoorDash proved its versatility in the Super Bowl commercial by teaming with culinary specialists and well-known entertainers. Matty Matheson's irrepressible energy and passion for cooking gave the ad a genuine feel.
Raekwon the Chef delivered his distinct flair and personality, bridging the gap between culinary and musical creativity. This eclectic group of performers effectively expressed DoorDash's theme of trust and dependability in delivering products other than restaurant meals.
The impact of DoorDash's commercials
Commercials for DoorDash have evolved into more than just adverts. They have evolved into cultural moments that strike a deeper chord with consumers.
DoorDash connects its brand to people's personal experiences by combining well-known celebrities and cultural figures.
These commercials provoke debate, evoke memories, and cement DoorDash's reputation as a dependable and innovative delivery company.
Conclusion
DoorDash has perfected the art of making enthralling advertisements that combine nostalgia, humor, and culinary delights.
The use of performers from American Pie in the "Best Summer Ever" advertisement, as well as the partnership with Matty Matheson and Raekwon the Chef in the Super Bowl ad, demonstrate DoorDash's commitment to engaging and entertaining consumers.
DoorDash's commercials not only marketed its services but also touched viewers' emotional chords, confirming the brand's place in their memory. We eagerly await the next chapter in DoorDash's advertising adventure, which is guaranteed to leave a lasting impression, as it continues to expand and innovate.
FAQs
Who is Jason Biggs and what is his connection to DoorDash?
Jason Biggs is an American actor best known for playing Jim Levenstein in the American Pie film franchise. He reprised his role as Jim in the DoorDash campaign, notably the "Best Summer Ever" commercial, opposite Seann William Scott as Stifler.
Is Jason Biggs exclusively associated with DoorDash commercials?
Jason Biggs appeared in the DoorDash commercial as part of their campaign, but he is an established actor known for his various roles in movies and television shows beyond the commercial realm.
Who is Matty Matheson and what is his role in the DoorDash commercial?
Matty Matheson is a well-known chef, TV host, and culinary expert. He appears in a DoorDash commercial, notably in the 2023 Super Bowl commercial. His presence highlighted DoorDash's relationship with culinary professionals, as well as their extended delivery capabilities beyond restaurants.
How can I watch the latest DoorDash commercials?
You can catch the latest DoorDash commercials on various platforms, including television, online streaming services, and social media. DoorDash often releases its commercials on its official website and YouTube channel, making them easily accessible to viewers.
Is there a particular actor known as the "Doordash commercial guy"?
The term "Doordash commercial guy" is a general reference to the actors who appear in DoorDash commercials. Since DoorDash collaborates with different actors and celebrities for their advertisements, the specific "Doordash commercial guy" can vary depending on the campaign and timeframe.
You May Also like: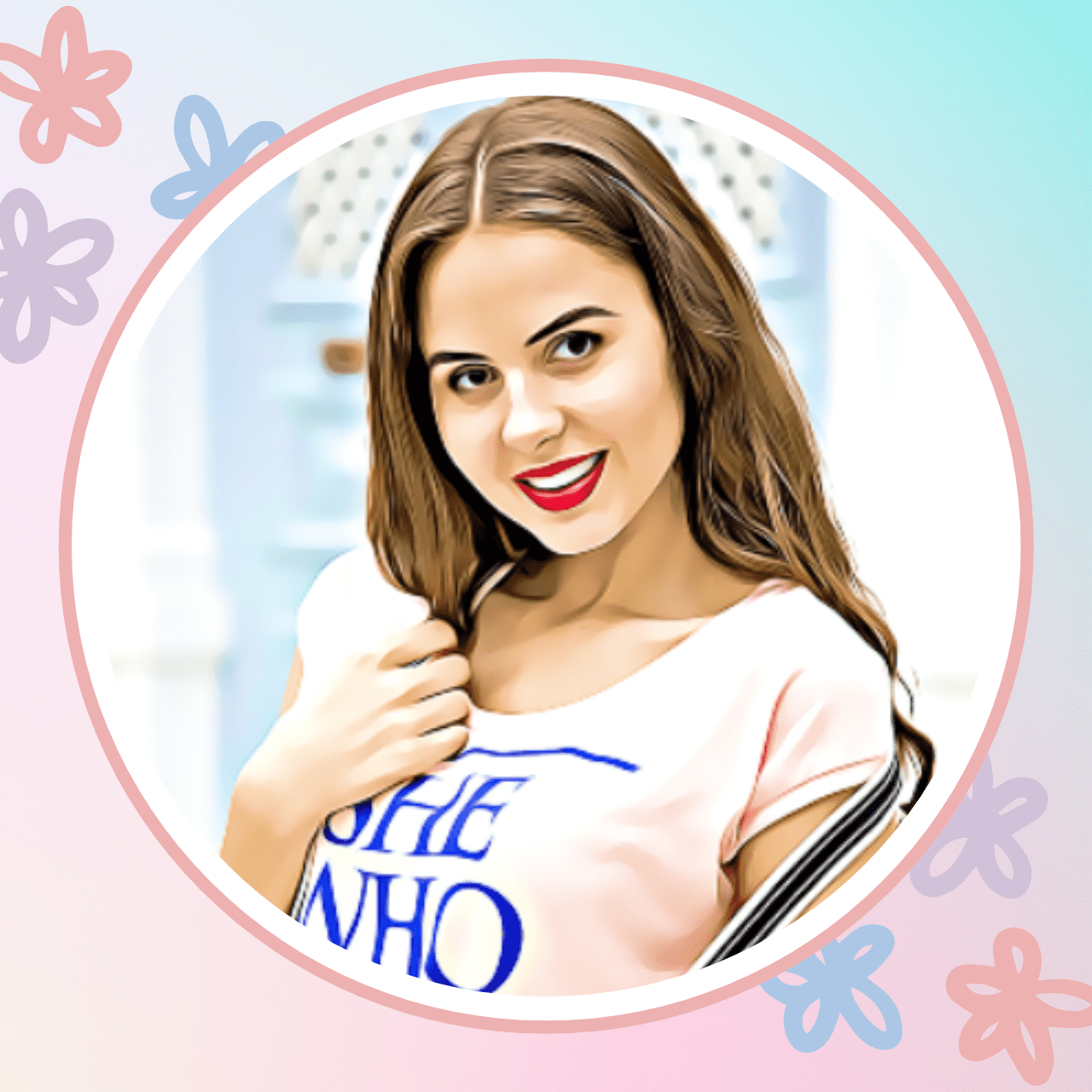 I am Olivia Johnson, a passionate writer who finds joy in creating engaging blogs on topics related to TV ads and commercial actors. I am deeply committed to the professional world of writing. Currently, I am working as a Content Writer at Myfavcelebs.com, where I continue to explore and contribute to the realm of entertainment and celebrity culture.
I have successfully completed my undergraduate education with a degree in English, and my love for reading books has been a lifelong pursuit, further enriching my appreciation for the written word. I have also worked as Ad Copywriter.
Please feel free to share your suggestions and comments.
Best Regards
Olivia Johnson (Author at Myfavcelebs.com)