Welcome to Myfavcelebs.com, where we bring you the juiciest celebrity news, updates, biographies, wikis, and net worth information! Our team of talented authors is spread across two continents, the United States and India, so you can be sure that we're always on top of the latest Hollywood happenings.
Here at Myfavcelebs.com, we're all about the glitz, the glam, and the goss. Our love for all things celebrity is evident on every page of our website. We're the kind of people who stay up all night refreshing TMZ, just to get a glimpse of our favorite celebs doing what they do best.
Our team of writers is some of the best in the business.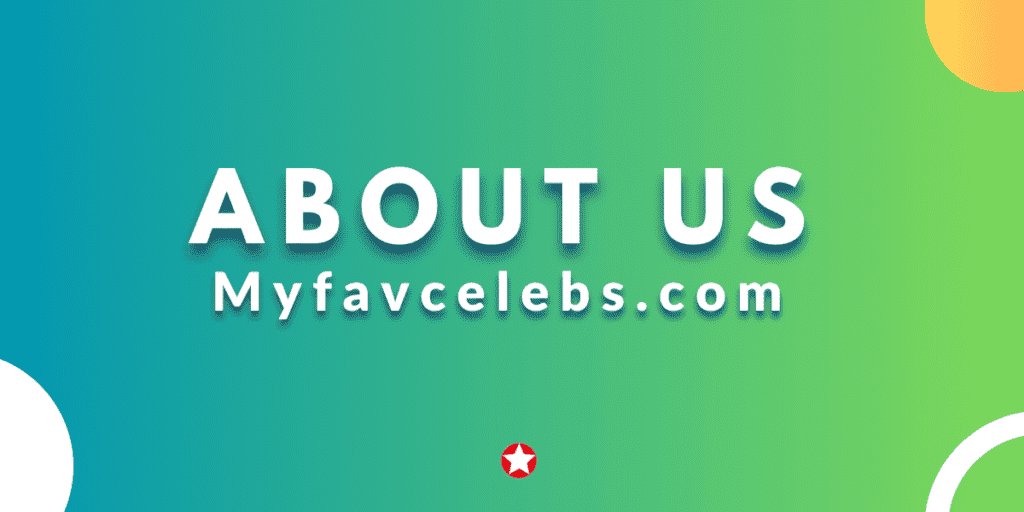 They eat, sleep, and breathe Hollywood, and they've got the inside scoop on all the latest happenings. With their help, we're able to provide you with the most up-to-date news and information about your favorite celebs.
We know that sometimes it's hard to keep up with the ever-changing world of Hollywood, which is why we've made it our mission to keep you in the loop. From the latest blockbuster movies to the hottest red carpet-events, we've got you covered. Our team works tirelessly to bring you the most comprehensive coverage of all things Hollywood.
But we're not just about the glitz and glam of Hollywood. We also pride ourselves on providing our readers with in-depth biographies and wikis of their favorite celebs. We believe that knowing the person behind the fame is just as important as the fame itself. That's why we take the time to research and compile the most accurate and comprehensive biographies and wikis for each and every celebrity we cover.
And let's not forget about the money, honey. At Myfavcelebs.com, we're all about that net worth. We know that our readers are always curious about how much their favorite celebs are worth, and we make it our mission to bring you the most accurate and up-to-date net worth information possible. Apart from that we also cover lyrics of famous and viral songs.
So, whether you're a die-hard fan of the Kardashians or you can't get enough of Tom Cruise, Myfavcelebs.com is the website for you. Our love for Hollywood knows no bounds, and we're always excited to share our passion with our readers.
We operate online, which means that you can access our website from anywhere in the world. Our first address is in sunny California, but we also have a team based in Delhi, India. We're truly an international team of celebrity enthusiasts!
At Myfavcelebs.com, we take our work seriously, but we also like to have a little fun along the way. We believe that laughter is the best medicine, which is why we try to inject a little humor into our articles whenever we can. After all, if you can't laugh at the ridiculousness of Hollywood, what can you laugh at?
So, kick back, relax, and let us take you on a journey through the wild and wacky world of Hollywood. We promise to keep you entertained, informed, and laughing all the way!
Our Team
Today, I want to take a moment to introduce you to the incredible team behind our website. We're a small but mighty group of content creators, each with our unique strengths and perspectives.
Myfavcelebs (Author and Editor)
First up is Myfavcelebs, one of our talented authors who writes articles on how to blog and subscription-based social media updates. With a deep passion for writing and a wealth of knowledge on these topics, Myfavcelebs is an integral part of our team. They consistently deliver high-quality content that helps our readers stay up-to-date on the latest trends and best practices in the world of online content creation.
Email id: [email protected]
Olivia (Author)
Next, we have Olivia, a full-time content creator who specializes in writing about commercial actors, Hollywood, and tech-related topics. With years of experience in both writing and SEO, Olivia brings a unique perspective to our team. Her articles are always well-researched, engaging, and informative, making her a valuable asset to our website.
Email id: [email protected]
Location: CA, USA
How we work at Myfavcelebs.com
Together, Myfavcelebs and Olivia work tirelessly to deliver the best possible content to our readers. We're proud of the work we do, and we hope you enjoy reading our articles as much as we enjoy writing them!
We maintain a relaxed work environment. Everyone has a vital role to play, and we are all working towards the same objective. Being a remote firm offers several benefits, including the ability to work our hours. This means that everyone may give their all to myfavcelebs at their speed, and we're fine with that.