If you are looking for the Rinvoq Commercial Actress name, then you've come to the right place. Today, we will provide you with the list of all girls who have been featured in Rinvoq Ads. The captivating world of Rinvoq commercials has left viewers intrigued and inspired, but there's one burning question that keeps popping up in conversations – who are the talented girls bringing these advertisements to life?
Join us as we dive deep into the realm of the Rinvoq commercial cast, unveiling the name behind the captivating performances that have touched hearts and sparked curiosity.
Scroll down to discover the Rinvoq commercial swim coach actress's name, Wiki, Bio, and profession. Additionally, we'll delve into the backgrounds of other actresses featured in several Rinvaq ads.
Rinvoq Commercial Actress 2023: Alexandra Fatovich (Head Swim Coach)
The interesting Rinvoq campaign, titled 'Just Okay: Swim coach,' features the versatile Alexandra Fatovich as the head swim instructor. This cinematic video beautifully depicts Rinvoq as a therapeutic answer for people dealing with the hardships of moderate to severe rheumatoid arthritis when used as directed.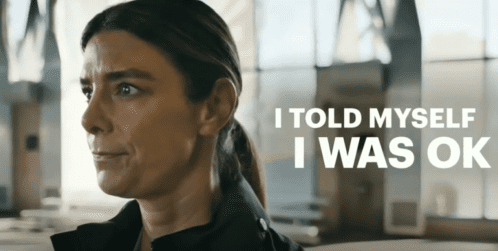 The ad has a diverse cast of characters, including Alexandra Fatovich as the head swim instructor, Danielle Banks as the Assistant coach, and the skilled Leith M. Burke as a baker. Each individual is portrayed as "just okay" in their different professions, resulting in a thought-provoking story.
At its core, this commercial emphasizes the critical need to maintain one's ideal health, especially when dealing with the difficulties of a medical condition like rheumatoid arthritis.
Rinvoq Ad Head Swim Coach Alexandra Fatovich wiki, bio, and Career
Hailing from the vibrant town of Fort Lee, New Jersey, Alexandra Fatovich is a versatile actress who boasts a diverse array of experiences within the entertainment industry.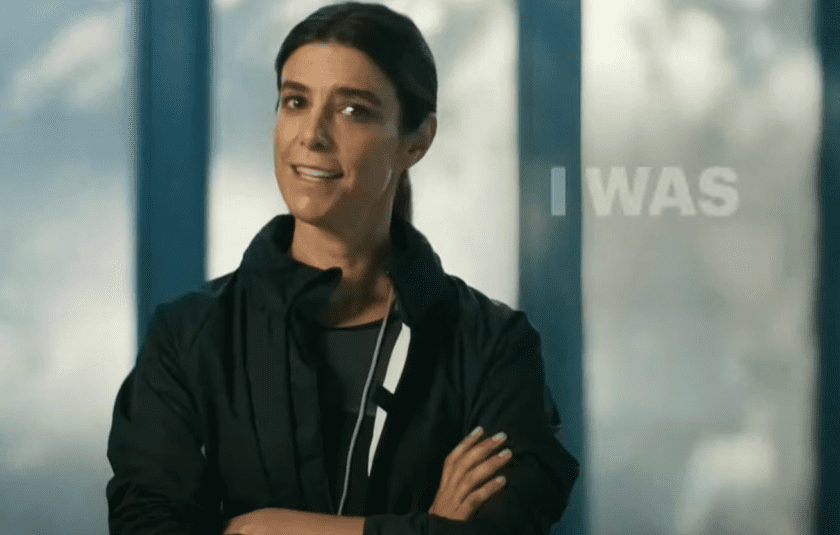 Her journey commenced after she graduated with Summa Cum Laude distinction from the renowned Newhouse School of Public Communications at Syracuse University, leading her to the vibrant epicenter of Los Angeles.
Her amazing film debut came in Martin Brest's "Gigli," a movie in which she shared the screen with superstars such as Ben Affleck and Jennifer Lopez.
Her television credits read like a who's who of the industry, with appearances on shows like Lifetime's "The Perfect Wife," "Without A Trace," and "The Rules of Engagement," as well as a memorable role in "Veronica Mars" as the sinister stalker and assailant opposite Harry Hamlin during the Christmas episode.
Notably, Alexandra had the honor of working with legendary filmmaker Mary Harron, best known for her work on "American Psycho," on an engrossing horror anthology series for NBC named "Fear Itself." She shared the stage alongside notable actors such as Shiri Appleby and Brandon Routh in this attempt.
Theatre career
Her abilities, as a respected member of the Theatre Tribe, have adorned successful shows such as Lanford Wilson's "Sympathetic Magic," "Proof," and "Lobby Hero." Recent ventures speak to her artistic prowess, including a short film titled "Dog Eat Dog," in which she appeared alongside stars like Zachary Quinto and Philip Baker Hall.
She also participated in a feature film with Paul Rudd and Paul Giamatti, establishing her reputation as a versatile performer. Her major part in the spine-chilling horror feature film "The Shower," which stands as a testament to her mesmerizing presence on screen, cannot be overlooked.
Alexandra Fatovich's lengthy career attests to her outstanding talent and versatility in film and television, providing audiences with a rich and variegated tapestry of her artistic capabilities.
Rinvoq Commercial Actress: Danielle Banks (Assistant coach)
Danielle Banks plays as Assistant to the head swim coach in the Rinvoq ad, which targets moderate to severe rheumatoid arthritis. She underscores the necessity of feeling one's best when dealing with these conditions with Rinvoq Commercial actor Leith M. Burke, who portrays a baker.
She is a multi-talented actor and screenwriter whose career in the entertainment industry began in Chicago's thriving theater scene. She gained a name for herself in a Steppenwolf production of "The Dutchman."
You May Also Like:
Danielle Banks Biography
Danielle's career took off once she relocated to Los Angeles, where she participated in national ads for well-known businesses such as Lyft, Breathe Right Strips, and Stanley Steamer.
Her flexibility is on display in her recurrent part on Amazon Prime's "Cheetah in August."
Danielle's artistic interests expanded beyond performing, and she began to experiment with scripting. She saw that the roles she was drawn to in front of the camera were restricted, so she decided to make her own.
As a result of this decision, she has worked on sketches, short films, and television screenplays in the comedy, drama, and animation genres.
Danielle moved on from writing to producing, including her work as a producer in the dramatic feature film "A New Life" in 2020.
Danielle is also now working on her hilarious series, "PRIME," for which she both writes and stars. The series will air in the near future, adding another achievement to her long list.
She has also directed, edited, and produced her own projects, including a short film titled "Go With It" and a dramedy series titled "Choices," which will begin filming in the fall of 2020.
Danielle also has a collection of digital comedy sketches that showcase her abilities in both written and POV-style content for social media platforms.
Rinvoq Commercial Girl Michelle Jubilee Gonzalez: The Helicopter Air Rescue Member
Michelle Jubilee Gonzalez plays a Helicopter air rescue member in a Rinvoq advertisements aimed at people with mild to severe dermatitis. The ad emphasizes Rinvoq's affordability for qualified patients.
Read more like this: Vtama Commercial Actress
Nicole Sarmiento: The Drummer in the Fishing Rinvoq Ad
Nicole Sarmiento features in a Rinvoq ad focusing on the treatment of patients with moderate to severe rheumatoid arthritis.
Rinvoq is portrayed in this advertisement as a prescription treatment for people who did not respond well to TNF blockers. Nicole is critical to effectively communicating the message.
Rinvoq Commercial Voice-Over Artist: Peter Jessop
While not an actress, Peter Jessop deserves to be recognized for his work as the voice-over artist in the Rinvoq ad starring Nicole Sarmiento.
His voice gives the advertisement depth and power.
The Rinvoq Rafting Commercial Location
The Rinvoq rafting commercial has gained popularity for its stunning scenery and thrilling adventure. Many people are eager to know where this commercial was filmed, as they are captivated by the beauty of the location and want to experience it for themselves.
The rafting ad was filmed in the beautiful country of New Zealand. Specifically, it was shot on the Shotover River, which is located near Queenstown on the South Island of New Zealand.
The Shotover River is known for its crystal-clear waters, dramatic canyons, and exhilarating rapids, making it the perfect location for the rafting campaign.
Rinvoq commercial actress dj
The reactions of viewers to the DJ in the Rinvoq commercial have been mixed. Some find her portrayal amusing, pointing out that she appears to strive to keep up despite the lack of music and that the audience's enthusiasm is minimal.
Others have compared the situation to a midlife crisis DJ doing her first gig with newly purchased equipment.
According to the impression given, she invited everyone in her apartment complex to her DJ debut, but the turnout was poor. Some viewers have called her genuineness as a DJ in the commercial "embarrassing."
These diverse reactions reflect the range of emotions shown by the commercial's DJ character, with some finding her portrayal humorous and others expressing mild irritation or joy at the scenario presented.
You May Also Love: Qulipta Commercial Actress
Rinvoq Commercial Review and people's reaction
The Rinvoq ad has left an indelible effect on viewers, and the reviews that have poured in are a mix of positive and curious. Many viewers are enthralled by the stunning scenery depicted in the video, with others expressing a wish to visit New Zealand's Shotover River.
The females in the campaign have also received appreciation for their compelling performances, which bring a genuine touch to the stories.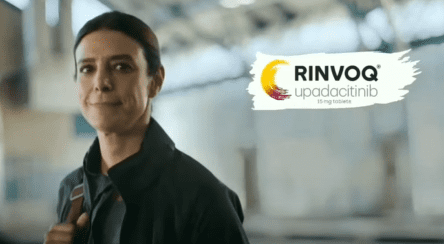 The overall positive and uplifting message portrayed in the commercial is well received, with viewers praising its ability to inspire hope and encourage an active lifestyle.
However, there is a noticeable thread of curiosity running through the comments, with viewers eager to learn more about the company.
While the campaign effectively conveys the concept of optimism, some believe that it may benefit from offering more information about the medication, its advantages, and any potential adverse effects.
The realism of the incidents shown in the video also raises concerns, with some viewers wondering if these are real-life scenarios or contrived for the campaign. While the video has clearly made an impression, viewers are eager to learn more about Rinvoq and its role in improving the lives of those experiencing medical issues.
Rinvoq Commercials Address a Wide Range of Medical Conditions
The advertisements cover a wide range of medical ailments, including moderate to severe rheumatoid arthritis, eczema, and ulcerative colitis.
severe commercials clearly portray the benefits of Rinvoq as a therapeutic option, providing hope to those suffering from severe health issues.
Rinvoq Rheumatoid Arthritis campaign
Moderate to severe rheumatoid arthritis is one of the most prominent medical problems portrayed in Rinvoq ads.
This autoimmune condition can have a crippling effect on a person's life, impairing their capacity to conduct daily duties.
It has been highlighted as a potential solution to assist individuals in reclaiming control of their lives when taken on a regular basis as prescribed.
Rinvoq Eczema Commercial
Another issue emphasized in Rinvoq advertising is eczema. Eczema, which is characterized by itchy, irritated skin, can be a source of misery and self-consciousness for those who suffer from it.
The company promoted a treatment alternative that is both effective and affordable, giving those with eczema hope.
Rinvoq Ulcerative campaign
The commercials also address ulcerative colitis, a chronic ailment affecting the colon that can cause discomfort and restrictions in everyday living.
Rinvoq is marketed as a once-daily medication that may assist patients in repairing their colon lining, allowing them to resume rigorous activities and eat certain foods.
All Rinvoq Commercial Actress List
Here is the list of all the actresses who were featured in the ad.
| Commercial Description | Actress | Published Date |
| --- | --- | --- |
| 'Just Okay: Swim Coach and Baker' | Danielle Banks (Assiatant ) | April 10, 2023 |
| 'Just Okay: Swim Coach and Baker' | Alexandra Fatovich ( head Coach) | |
| 'Helicopter: Surfing' | Michelle Jubilee Gonzalez | July 19, 2022 |
| 'River Rafting and Challenge Course' | Not specified | June 27, 2022 |
| 'Your Mission: Zip Line & ATV Riding' | Not specified | July 18, 2022 |
| 'Helicopter' | Michelle Jubilee Gonzalez | May 31, 2022 |
| 'Fishing' | Nicole Sarmiento | February 28, 2022 |
| 'Standup to Your Symptoms' | Not specified | October 17, 2022 |
Conclusion
The Rinvoq commercials have left an indelible impact on viewers, thanks in large part to the excellent women who play these characters.
Danielle Banks, Michelle Jubilee Gonzalez, Nicole Sarmiento, and Peter Jessop's voice-over work all played important parts in expressing Rinvoq's usefulness as a prescription medication.
Their contributions, together with the captivating narratives of these commercials, have aided in raising awareness of Rinvoq as a therapy option for a variety of medical issues.
As Rinvoq continues to give patients hope and relief, it is apparent that these commercials and the ladies who star in them have played a big role in its success.
Their passion for their craft and commitment to conveying powerful messages have cemented their place in the Rinvoq saga.
FAQs
Who is the actress in the Rinvoq commercial as the head swim coach?
The actress who plays the head swim coach in the Rinvoq commercial is Alexandra Fatovich.
What is the medical condition addressed in the Rinvoq commercial with the swim coach?
The campaign focuses on moderate to severe rheumatoid arthritis as the medical condition Rinvoq aims to treat.
What other roles has Danielle Banks played in her acting career?
Danielle has appeared in national commercials for brands like Lyft, Breathe Right Strips, and Stanley Steamer. She also has a recurring role in the Amazon Prime show, "Cheetah in August."
Who is the actress in the Rinvoq eczema commercial?
Michelle Jubilee Gonzalez is the actress featured in the Rinvoq campaign targeting moderate to severe eczema.
Who provides the voice-over in the Rinvoq commercial with Nicole Sarmiento?
Peter Jessop lends his voice to the Rinvoq ad featuring Nicole Sarmiento.
Where was the Rinvoq commercial filmed?
The Rinvoq commercial was filmed in the stunning Shotover River area in New Zealand, specifically near Queenstown on the South Island.
What is the primary message conveyed in Rinvoq commercials?
Rinvoq Ad primarily conveys a message of hope, vitality, and the potential for an active life even when facing medical challenges. They aim to inspire viewers to embrace life's adventures and make the most of each day.
Are the scenarios in Rinvoq commercials based on real experiences?
While Rinvoq advertisements aim to capture the essence of real-life experiences, they are typically fictional advertisements created to promote the benefits of Rinvoq as a treatment option. The experiences depicted are inspired by real-life situations faced by individuals dealing with various medical conditions.
How do Rinvoq commercials contribute to raising awareness about medical conditions?
The Ad addresses a range of medical conditions, from rheumatoid arthritis to eczema and ulcerative colitis. By portraying individuals living vibrant lives despite their health challenges, these campaigns help raise awareness about these conditions and the importance of effective treatment.
Who is the actress in the Rinvoq commercial as the assistant swim coach?
The actress who plays the assistant swim coach in the Rinvoq commercial is Alexandra Fatovich.
You can read more about Ad actresses at Myfavcelebs.com
Only Natural Diamonds Commercial Actress 2023: Lily James
Newday USA Blonde Girl Juliana Folk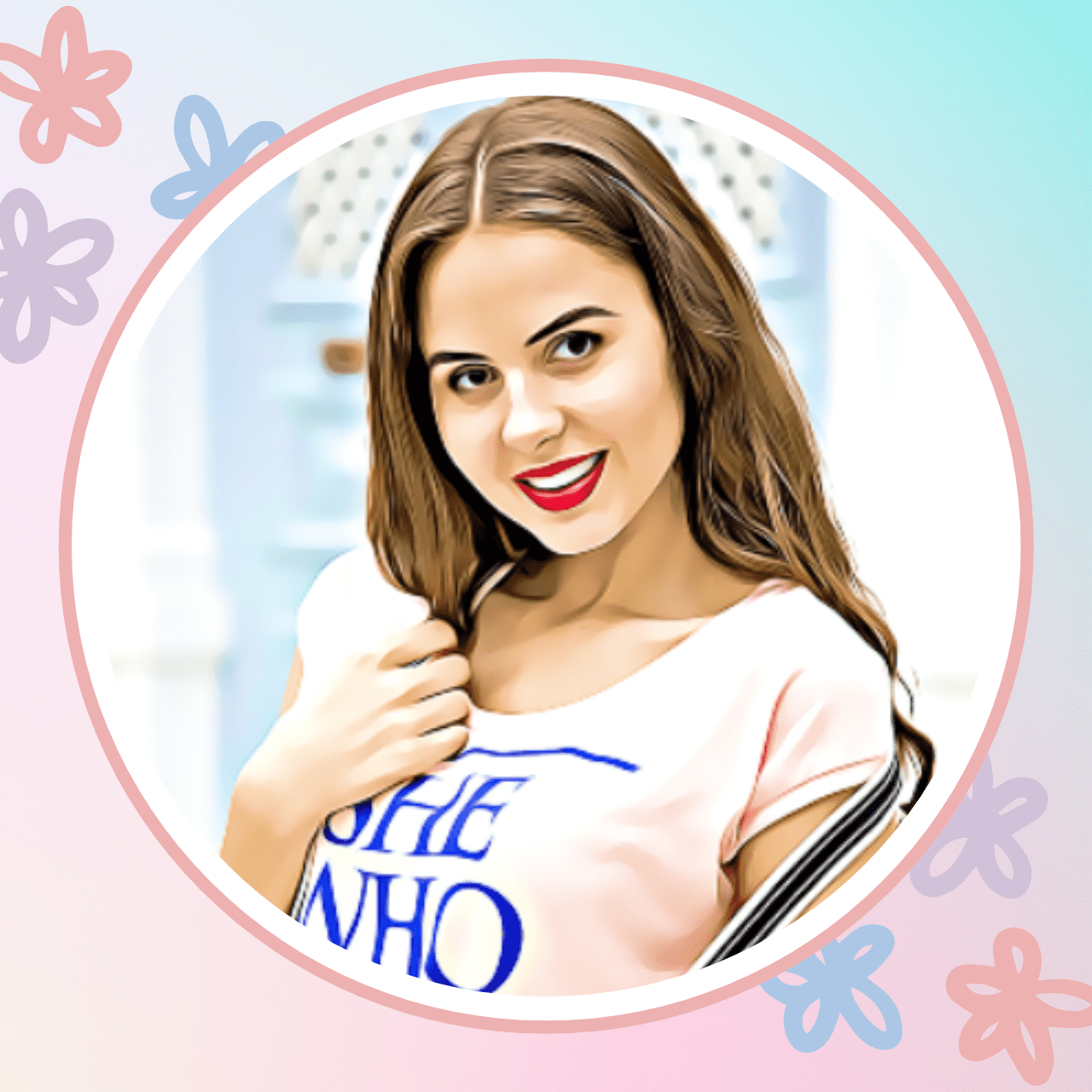 Hello! My Self Olivia Johnson.
I am a passionate writer and love writing blogs. I am also very much interested in the professional world of writing. As of now, I am working for Myfavcelebs.com as a full-time content writer. I have completed my graduation in English Subject and love to read books.
Feel free to comment with your suggestions.
Best Regards
Olivia Johnson ( Author at Myfavcelebs.com)