Today, we'll get to know the Only Natural Diamonds Commercial Actress, Lily James, and explore her biography and early life to better understand her life story. A light shines brilliantly in the sparkling world of luxury jewelry, and that star is none other than the attractive British actress, Lily James.
Lily James has been proudly crowned as the global ambassador for the Natural Diamond Council's (NDC) latest and most enchanting advertising endeavor, 'To Treasure, Now and Forever.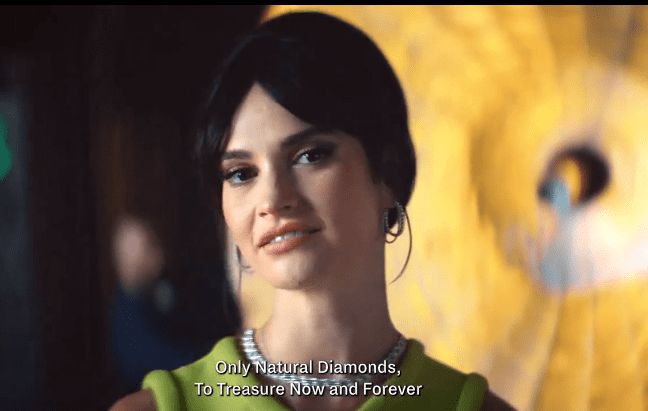 This campaign not only highlights the everlasting beauty of genuine diamonds, but it also empowers women who buy diamond jewelry for themselves.
Only Natural Diamonds Commercial Actress 2023: Lily James
Only Natural Diamonds Commercial Actress name is Lily James, a renowned British actress known for her exceptional talent and versatility. At the age of 34, she has made a significant impact on both the entertainment industry and the world of luxury jewelry through her association with the Natural Diamond Council's (NDC) advertising campaign.
She embarked on a new chapter in her illustrious career in September 2022, when she was named a brand ambassador for the Natural Diamond Council, further enhancing her status in the worlds of fashion and luxury.
People have loved her captivating presence in the commercial, and now let's take a closer look at James's remarkable career, her early life, and wiki.
Lets deep dive into her ad success and learn more about this talented actress.
You May Also Like: Newday USA Blonde Girl Juliana Folk
NDC and Lily James are a perfect match said David Kellie (CEO of NDC)
David Kellie, CEO of NDC, is overjoyed with the choice of Lily as the face of their campaign. He calls her the "personification of natural diamonds," with her talent, adaptability, and genuineness shining through in every manner.
The choice of Lily James as ambassador underlines NDC's dedication to the prosperity of the natural diamond sector.
Lily , who recently received her first Emmy nomination for her performance as Pamela Anderson in "Pam & Tommy," has expressed her delight and pride upon being selected the global ambassador for NDC.
She recognizes the natural diamond industry's worldwide relevance and looks forward to learning more about it in her new role.
She is at the center of the "To Treasure, Now and Forever" campaign. The 45-second commercial video takes viewers on an intimate trip through her life, highlighting scenes from her previous roles.
The commercial is set in London, her present abode, which adds a personal touch and creates a unique connection between Lily and the audience.
Only Natural Diamonds Commercial: Script Explained
The script for the Natural Diamonds ad is a powerful and empowering message, reminding us not to underestimate the strength of women.
It draws a parallel between the timeless beauty of natural diamonds formed over time and the enduring qualities of women.
The script encourages authenticity, staying open-hearted, and embracing life's surprises while emphasizing the value of treasuring both natural diamonds and the remarkable legacy women create, shining brightly now and for generations to come.
Diamonds are used to empower Women: Kristina Buckley Kayel (MD of NDC)
The NDC ad focuses specifically on women who buy jewelry for themselves. The managing director of NDC, Kristina Buckley Kayel, emphasizes how women today have numerous responsibilities in life, and natural diamond jewelry serves as a method to convey satisfaction, self-love, and originality.
The campaign's goal is to personify these characteristics through its film.
You May Also read:
A Stunning Collection of Jewelry
NDC features a gorgeous assortment of diamond jewelry as part of the campaign, from classic items like tennis bracelets and necklaces to timeless options like studs and hoops.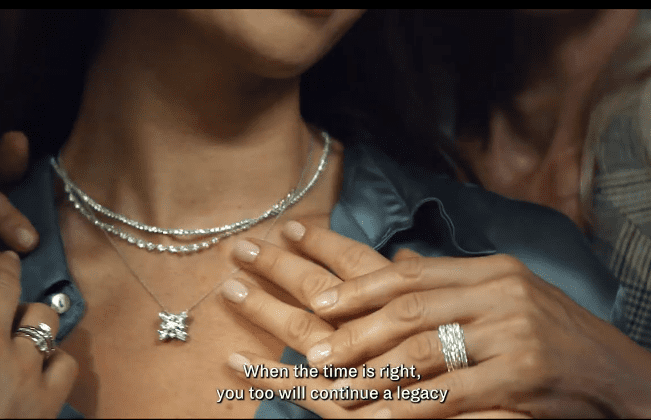 The ad will also feature unique designs such as spectacular earrings and spiral bracelets.
Increasing Industry Diversity
The campaign's jewelry acquired from independent designers and brands, underscoring NDC's commitment to encouraging diversity in the industry.
These gorgeous itemsare available at Hamilton Jewelers, Bachendorf's, Razny Jewelers, Hyde Park Jewelers, and Sissy's Log Cabin, among others.
Only Natural Diamonds Campaign Jewelry Exclusive
She shown wearing jewelry designed specifically for the campaign. These one-of-a-kind pieces featured in an immersive online lookbook, which is available on the NDC website.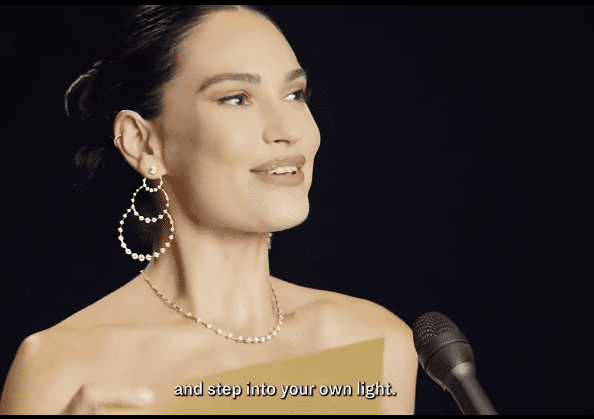 The reinvented "Soleil" pendant by designer Malyia McNaughton, which is offered as earrings and a bracelet, is one of the highlights.
Malyia McNaughton's participation in this campaign is notable because she was a founding member of the Natural Diamond Council's Emerging Designers Diamond Initiative, a cooperation between the Natural Diamond Council and designer Lorraine Schwartz.
This effort attempts to make the fine jewelry sector more egalitarian.
Only Natural Diamonds campaign helped Reaching a Worldwide Audience
NDC's advertising plan will primarily rely on digital video marketing, with the company utilizing prominent streaming sites such as Hulu and Peacock to reach a large and digitally engaged audience.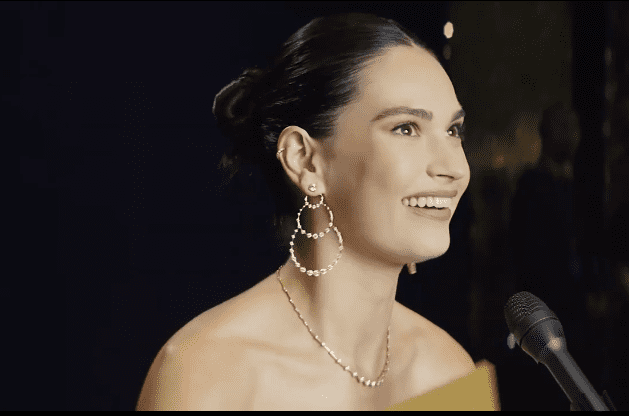 The campaign, however, will not be limited to the digital arena; it will also be published in print and digital media sources, assuring its awareness across several media consumption channels.
A Worldwide Presence
The NDC campaign is not limited to the United States. It will broaden its global reach by establishing a presence in the United Kingdom, France, India, the United Arab Emirates, and China.
Manu Cossu directed the campaign behind the camera, with photography by Sasha Marro and Molly S.J. Lowe. Rebecca Corbin-Murray painstakingly managed styling, ensuring that James shines as the embodiment of ad in every shot.
NDC's campaign is a celebration of natural diamonds, empowered women, and the one-of-a-kind beauty of diamond jewelry.
This campaign is expected to leave a lasting impression in the world of luxury jewelry, thanks to its star-studded roster, exclusive designs, and worldwide reach.
Only Natural Diamonds Commercial Model: Lily James Biography
Lily Chloe Ninette Thomson, better known as Lily James, has fashioned her own beautiful path in the enchanted land of Hollywood, where stars glitter and dreams are formed.
Lily was born on April 5, 1989, in the small village of Esher, Surrey, and her road to popularity has been nothing short of captivating.
Lily has significant roots in the entertainment industry, as her mother, Ninette Mantle, used to perform on stage, and her father, James "Jamie" Thomson, was a great musician.
Her American actress grandmother, Helen Horton, added to her family's artistic lineage.
But her family has a rich history as well; her maternal grandmother, of French descent, escaped her hamlet near Paris during World War II, eventually falling in love with James' grandfather, an RAF clergyman.
A Trip to the Spotlight
Her path to the spotlight began at Tring Park School for the Performing Arts in Hertfordshire, where her love of acting grew.
Her commitment to her trade led her to the famed Guildhall School of Music and Drama in London, where she developed her skills and emerged as a true diamond in the making.
Lily James on British television: A New Star Is Born
Only natural diamonds ad actress rose to prominence on British television, where she starred as Ethel Brown in "Just William" in 2010.
Her debut came as Lady Rose MacClare in the critically acclaimed period drama series "Downton Abbey" (2012-2015).
She first shone as a natural diamonds commercial actress, grabbing hearts and highlighting her beautiful charisma.
Cinderella's Story
Lily wore Cinderella's iconic glass slippers in Kenneth Branagh's live-action Disney adaption in 2015.
Her captivating portrayal captivated the world, but it wasn't just her performance that dazzled; it was her debut as the brilliant face of natural diamonds, which added a touch of elegance to her already glittering career.
On the Big Screen, Versatility
Her performances on the big screen have repeatedly impressed fans. Her passion to her craft shined through in all of her films, from "Baby Driver" (2017) to "Darkest Hour" (2017).
She even starred in the WWII drama "The Exception," bringing another dimension to her diverse talent.
Keeping the Lights On
Her career glistened further with appearances in "Mamma Mia! Here We Go Again" (2018) and "The Guernsey Literary and Potato Peel Pie Society" (2018), where her timeless appeal as a natural brilliant commercial actress only boosted her radiant presence.
An Outstanding Performance
James' outstanding talent has not gone unnoticed.Her portrayal of Pamela Anderson in the biographical series "Pam & Tommy" (2022) garnered her Golden Globe and Primetime Emmy Award nominations.
Solidifying her position as a natural gems commercial actor who shines the brightest.
Lily James Dating History
Lily had personal difficulties and victories behind the glitz of Hollywood. To separate herself from another actress named Lily Thomson, she took her father's first name, James, as her stage name.
From 2014 to 2019, she was in a romantic relationship with actor Matt Smith, whom she met while filming "Pride and Prejudice and Zombies."
She began dating American musician and composer Michael Shuman, a member of the American rock band Queens of the Stone Age, in 2021.
However, by February 2023, rumours indicated that their romance had ended.
A Classical Grace
She is the star whose rise from a little hamlet in Surrey to the international stage is as enthralling as the parts she plays, is the epitome of ageless grace both on and off the screen.
Her collaboration with natural diamonds has further enhanced her brilliance, assuring her legacy in the worlds of entertainment and luxury.
Conclusion
Lily James emerges as a true light in the worlds of luxury jewelry and entertainment, and her job as the Only Natural Diamonds Commercial girl for 2023 exemplifies her varied talent.
At 34, she exemplifies not only the ageless attractiveness of diamonds, but also the strength, sincerity, and grace of modern women.
Her mesmerizing presence in the Natural Diamond Council's advertising campaign has captivated people all over the world.
She has become a symbol of enduring beauty and empowerment, from her childhood in Surrey to her acclaimed career in film and television. Just visit daily at Myfavcelebs.com to get Popular TV Commercials updates.
FAQs
Who is the Only Natural Diamonds Commercial Actress?
The Only Natural Diamonds Commercial Actress is Lily James, a British actress known for her versatility and talent.
What is Lily James' age and background?
Lily James is currently 34 years old, and she was born in Esher, Surrey, UK. She comes from a family with a background in the performing arts and has a rich heritage.
How did Lily James become associated with natural diamonds in her career?
Lily James first became associated with natural diamonds during her role as Lady Rose MacClare in "Downton Abbey" and has continued to represent the beauty and timelessness of these gems.
What are some of Lily James' standout film and television roles?
Some of Lily James' standout roles include Lady Rose MacClare in "Downton Abbey," Cinderella in the live-action adaptation, and her Emmy-nominated role as Pamela Anderson in "Pam & Tommy."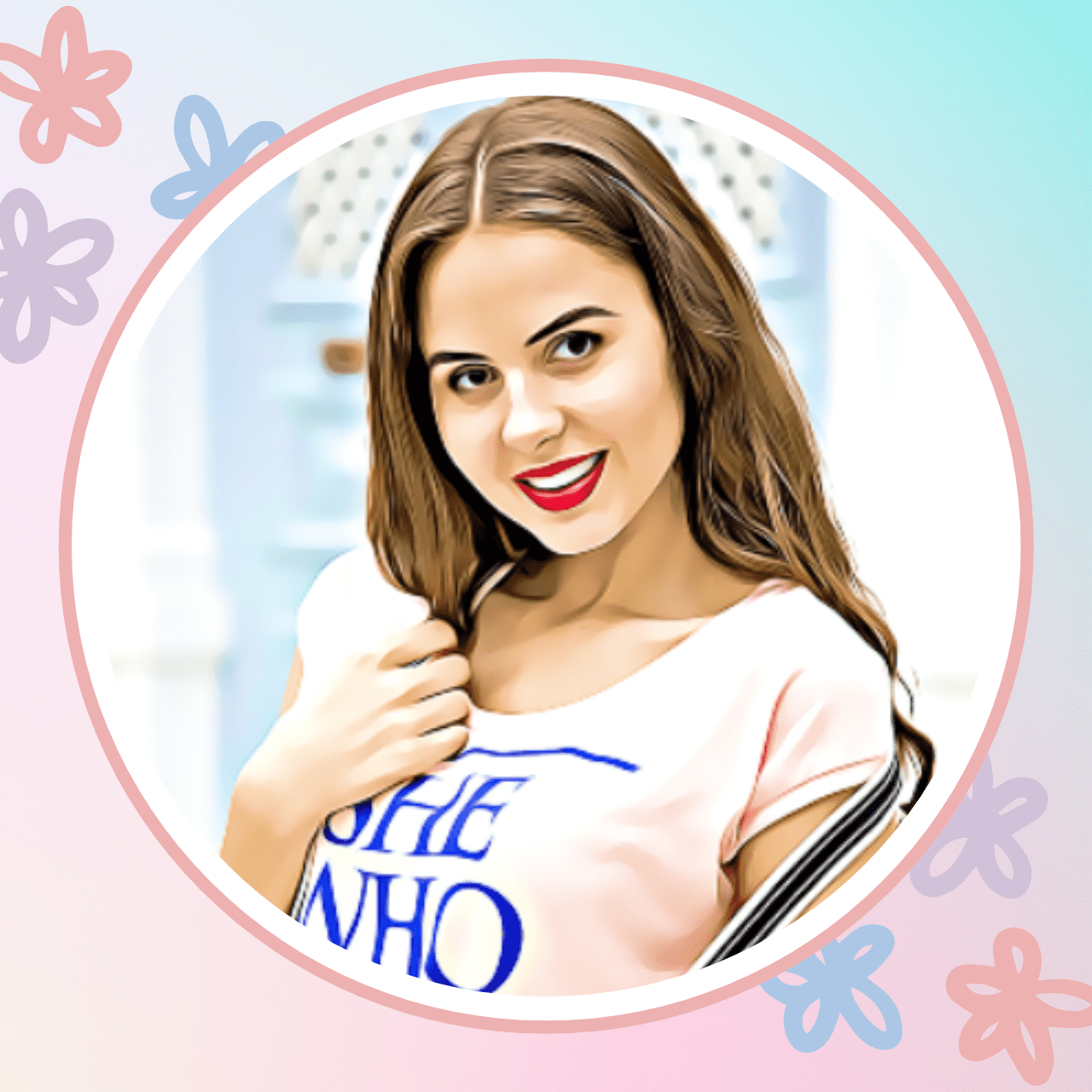 Hello! My Self Olivia Johnson.
I am a passionate writer and love writing blogs. I am also very much interested in the professional world of writing. As of now, I am working for Myfavcelebs.com as a full-time content writer. I have completed my graduation in English Subject and love to read books.
Feel free to comment with your suggestions.
Best Regards
Olivia Johnson ( Author at Myfavcelebs.com)