Today we will explore some of the best Medicare Commercial Actors: William Devane and Jimmie Walker. Certain actors become synonymous with specific brands or items in the wide landscape of television advertising. William Devane, an American actor whose range and riveting performances have left an indelible impression on the entertainment business, is one such prominent character. Devane has become a recognized face in the health business over the years, primarily through his appearances in Medicare Coverage Helpline advertisements.
Aside from that, another actor named Jimmie Walker appeared in a Medicare commercial. Many more performers appear in this commercial, but we'll focus on William and Jimmie today.
We go deeper into Devane and Walker's successful careers, their iconic appearances in Medicare advertisements, and their outstanding contributions to film and television in this extended article.
Medicare Commercial Actors: William Devane and Jimmie Walker
Two well-known actors have each graced our television screens in Medicare commercials, showcasing their distinct talents. In a fascinating ad for Medicare Coverage Helpline, William Devane, known for his varied appearances in cinema and television, enthralled viewers.
Devane expertly explained the advantages and complexities of Medicare plans, inspiring people looking for important information with his authoritative yet personable style.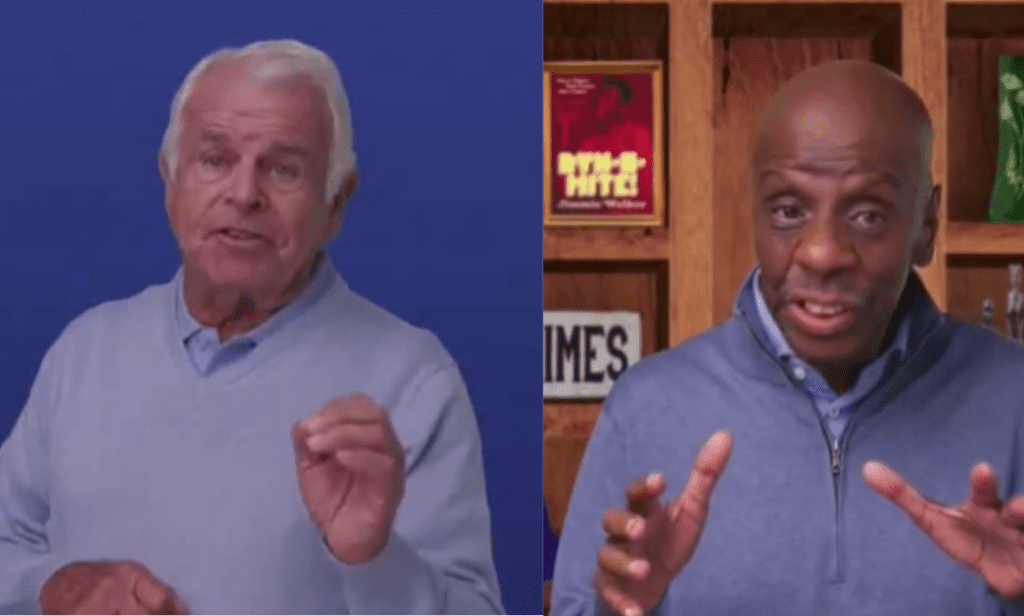 However, in a different advertisement for The 2023 Medicare Helpline, the legendary Jimmie Walker, known for his comedic brilliance and iconic role as J.J. Evans Jr. on "Good Times," displayed his contagious humor and charm.
Walker's vivacious demeanor and catchphrase "Dy-no-mite!" resonant with viewers as the advertisement titled "Medicare Advantage Plan Benefits" played, making the information regarding Medicare Advantage plans both entertaining and amusing.
William Devane and Jimmie Walker each offered their own special talents to the commercials, making an impression on viewers who were looking for insightful advice for their healthcare decisions.
Their individual performances provide evidence of their reputations as reputable performers, each making a lasting impression on the Medicare awareness and television advertising industries.
You may also like: Newday USA Blonde Girl Juliana Folk
Medicare Commercial Actor: William Devane
William Devane is featured in Medicare commercials. William Devane's image has recently become famous in Medicare Coverage Helpline advertising. Notably, he was included in two important TV ads that were well-received by viewers interested in learning more about Medicare advantages and enrollment.
The first ad, titled "Extra Benefits," ran for 120 seconds and provided a thorough overview of the products and services provided by the Medicare Coverage Helpline. The advertising, which was released on April 10, 2023, highlighted the extra advantages and assistance the helpline offers people navigating the complexity of Medicare coverage.
The second commercial, "Annual Enrollment Period. Simple," aired for 60 seconds and emphasized the simplicity of enrolling in Medicare during the Annual Enrollment Period. This advertisement, which aired on October 7, 2022, featured Devane's calming presence as he took viewers through the enrollment process, urging them to make informed selections about their healthcare alternatives.
Early Life and Acting Journey
William Joseph Devane, his real name, was born in Albany, New York, on September 5, 1939. From a young age, it was clear that he had a passion for acting, and he pursued his goals by enrolling at the esteemed American Academy of Dramatic Arts in New York City. Devane started a journey that would bring him a variety of opportunities and awards after graduating in 1962.
The Road to Prominence: The theater world was drawn to Devane's brilliance and commitment to his profession. He quickly became involved with the New York Shakespeare Festival, performing in 15 plays to display his acting talent.
He gave a standout performance in the 1966 off-Broadway production of MacBird, a satirical look at the political scene of the time, in which he played Robert F. Kennedy.
Breakthrough Roles and Critical Acclaim
Devane's career underwent a transformation in the late 1960s and early 1970s. In the television documentary "The Missiles of October" (1974), which detailed the tense Cuban Missile Crisis, he won considerable acclaim for his portrayal of President John F. Kennedy. His portrayal won accolades for being sensitive and true to the character of a revered leader.
Devane kept wowing audiences by taking on the difficult character of John Henry Faulk in the Emmy Award–winning television film "Fear on Trial" (1975). Devane demonstrated his dramatic range and capacity to represent complex characters as Faulk, a radio host who endured persecution during the McCarthy era.
The Legacy of Greg Sumner on "Knots Landing"
Devane's portrayal of Greg Sumner in the popular primetime serial opera "Knots Landing" was undoubtedly one of his most significant roles.
the show's characters' lives and relationships revolved around a fictitious Southern California cul-de-sac, which aired from 1983 to 1993.
Devane rose to prominence and a devoted fan base for his depiction of Greg Sumner, an ambitious and manipulative politician who later became a wealthy businessman.
The Success on the Big Screen
Devane not only made a name for himself in the world of television but also in the world of film. He gave outstanding performances in a number of movies that adorned the silver screen. His parts in Alfred Hitchcock's "Family Plot" (1976), the suspenseful "Marathon Man" (1976), the action-packed "Rolling Thunder" (1977), and the intriguing crime drama "Payback" (1999) are among his cinematic achievements.
In films like "Space Cowboys" (2000), where he featured with a large cast that included Clint Eastwood, Tommy Lee Jones, and Donald Sutherland, Devane further demonstrated his versatility in portraying a variety of characters.
His outstanding performances gave each character depth and realism, enhancing his reputation as a highly regarded actor.
Television Success and Roles in Prestigious Series
Along with his filmography, Devane spent much of his career acting in well-known television series. Notably, he reprised his performance as Master Sgt. Milt Warden in the 1979 miniseries adaptation of "From Here to Eternity" and afterward in a brief weekly series.
Devane's performance of President Henry Hayes in three "Stargate SG-1" episodes and the follow-up direct-to-DVD film "Stargate: Continuum" provided additional evidence of his adaptability in handling roles requiring authority and gravitas.
Devane appeared as the Secretary of State in many sequences on "The West Wing" in 2004. He had previously worked with Martin Sheen as John F. Kennedy in "The Missiles of October." A memorable role was added to his resume when he later joined the cast of the popular television show "24" as James Heller, the Secretary of Defense.
Life Beyond the Cameras
Devane's personal life, in addition to his excellent acting profession, demonstrates his commitment to and affection for his family. He wed Eugenie McCabe in 1961, and the two of them had Joshua and Bill as children. Bill, Devane's older son, tragically died in an accident.
Devane's Legacy Lives On: Devane has continued to enthrall audiences with his work in both television and film in more recent years. On the ABC primetime soap opera "Revenge" (2012), he played Grandpa Edward Grayson, and as Dr.
In the Jesse Stone mystery films, Dix co-stars with Tom Selleck. In addition, he portrayed the US President in Christopher Nolan's blockbuster movie "The Dark Knight Rises."
Medicare Commercial featuring Jimmie Walker
One person stands out in the exciting world of television advertising with his charm and humorous brilliance – none other than the amazing Jimmie Walker. You might recognize him as the humorous guy who always makes you laugh when he appears on the screen. But Medicare commercial actor Jimmie is more than just his contagious sense of humor; he has left an indelible mark on both television and comedy.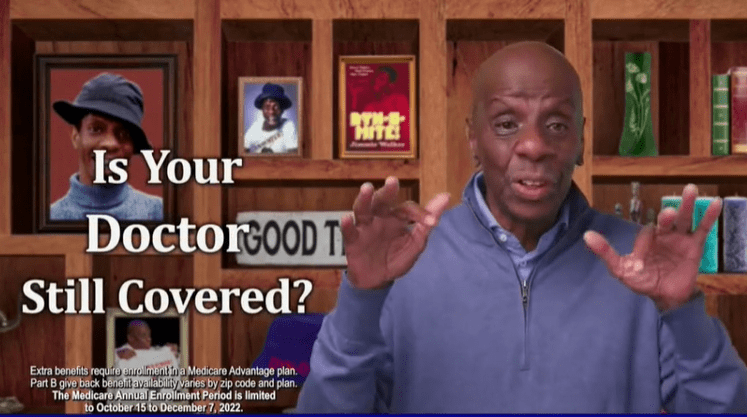 Jimmie Walker's rise to stardom has been nothing short of extraordinary. He has engraved his name in the hearts of viewers worldwide with a career spanning diverse roles in television and comedy. Among his various endeavors, he has become a well-known face in the health business thanks to his appearances in commercials for The 2023 Medicare Helpline.
Jimmie Walker's Early Life and Career
Jimmie Walker, born on June 25, 1947, in The Bronx, New York City, acquired his affinity for performance at a young age. He chased his aspirations with zeal, beginning his career as a stand-up comedian in numerous venues throughout the country.
Walker's humorous abilities rapidly drew attention, propelling him to television and popular stardom.
From Stand-Up to Stardom
Jimmie Walker got his big break when he was cast as James "J.J." Evans Jr. in the classic sitcom "Good Times," which ran from 1974 to 1979. His character, J.J., was noted for his catchphrase "Dy-no-mite!" and became one of television's most remembered and beloved characters during that time period. Walker's hilarious timing and contagious enthusiasm quickly made him a fan favorite.
"Good Times" not only propelled Walker to popularity, but it also cemented his place in television history as one of the first African-American performers to play the lead in a successful sitcom. His portrayal of J.J. Evans won him fans from all walks of life and continues to captivate viewers to this day.
Beyond "Good Times"
Following the success of "Good Times," Walker continued to build a name for himself in the entertainment industry.
He appeared in several television shows and made countless guest appearances, demonstrating his acting flexibility.
His comic career also grew as he performed stand-up routines across the country, captivating audiences with his characteristic wit.
Walker's Medicare Commercial "Medicare Advantage Plan Benefits"
Jimmie Walker visited television screens once more in 2022, this time in a 60-second TV commercial for The 2023 Medicare Helpline. The commercial, dubbed "Medicare Advantage Plan Benefits," attempted to teach people the benefits of the helpline's Medicare Advantage plans.
The commercial, which aired on December 5, 2022, featured Walker's engaging presence as he highlighted the benefits and support available through Medicare Advantage plans. His charm and charisma lent a sympathetic touch to the information, making it accessible and clear for people seeking help with their healthcare decisions.
Legacy and Impact
Jimmie Walker's contributions to the entertainment business go far beyond his humorous performances and acting jobs. His depiction as J.J. Evans on "Good Times" broke through barriers and provided opportunities for other African-American actors, leaving an indelible mark on television representation.
Furthermore, Walker's appearance in Medicare commercials lends the adverts a sense of familiarity and dependability. Walker's presence provides a comforting and personable connection as viewers seek credible information on their healthcare alternatives.
People's Reaction to Medicare Commercial
There's no doubting the charismatic actor Jimmie Walker's presence in TV ads. His frequent appearances on television have even piqued the interest of one irritated viewer, who jokingly laments running into him whenever their grandmother is watching TV.
Others, on the other hand, find the commercial amusing, frequently replicating Walker's classic "MOOOONEYY" exclamation and recalling it with a smile. However, not everyone agrees, and some readers express relief that the commercial appears to be playing less frequently as a result of the negative reaction.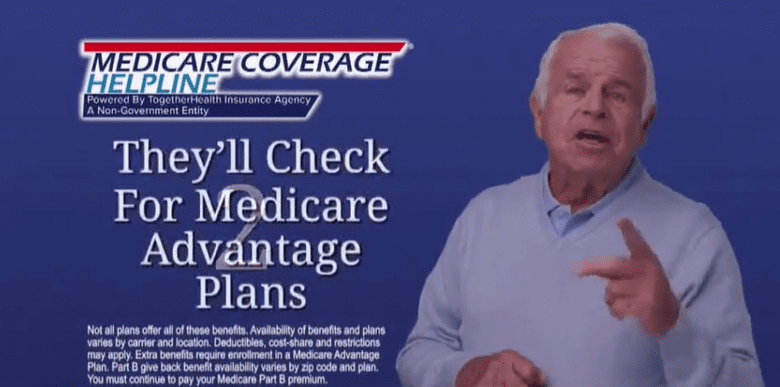 Regardless of one's feelings, it's clear that Jimmie Walker's catchphrase has made an indelible impression on viewers, even prompting jokes and laughter in unlikely locations like a nursing home.
While some find it humorous, others question if they'll be reminded of these adverts in the future, similar to how nostalgic "good times" may come to mind. Aside from Walker's commercial presence, another actor, William Devane, who appears in a different Medicare commercial, is admired. Some find Devane's portrayal amusing, while others are puzzled by his energetic delivery.
Regardless of one's feelings, it appears that these commercials have made an impression on viewers, eliciting laughter and generating debate.
Conclusion
William Devane's remarkable career journey, from his early days in the theater to his enduring legacy in television and film, is a testament to his talent, versatility, and dedication to his craft. His portrayals of complex characters, including Greg Sumner on "Knots Landing" and James Heller on "24," have earned him a special place in the hearts of audiences worldwide.
Moreover, Devane's and Jimmie's appearances in Medicare commercials have added a comforting and trustworthy touch to the advertisements, making him a familiar face for those seeking guidance on Medicare coverage. As his legacy continues, there's no doubt that their contributions to the entertainment industry and his impactful performances will be remembered for generations to come.
FAQs
Who is the actor featured in the Medicare commercial with the catchphrase "MOOOONEYY"?
The actor with the iconic catchphrase "MOOOONEYY" in the Medicare commercial is Jimmie Walker. His energetic presence and memorable line have made him a familiar face on television screens.
What other famous role is Jimmie Walker known for apart from his appearances in Medicare commercials?
Jimmie Walker is best known for his role as J.J. Evans Jr. in the classic sitcom "Good Times," where his character's catchphrase "Dy-no-mite!" became a cultural phenomenon.
Who are the actors that appear in Medicare commercials?
The actors featured in the Medicare commercial are William Devane and Jimmie Walker.
Read More at Myfavcelebs.com
Chewy Peanut Butter Box Commercial: Voices, Giorgio and Ralph
Dicks Sporting Goods Commercial Actress: Kay Adams [2023]
Doordash Actors: Jason, Seann, and Matty Matheson
Choice home warranty George Foreman: Protect Your Home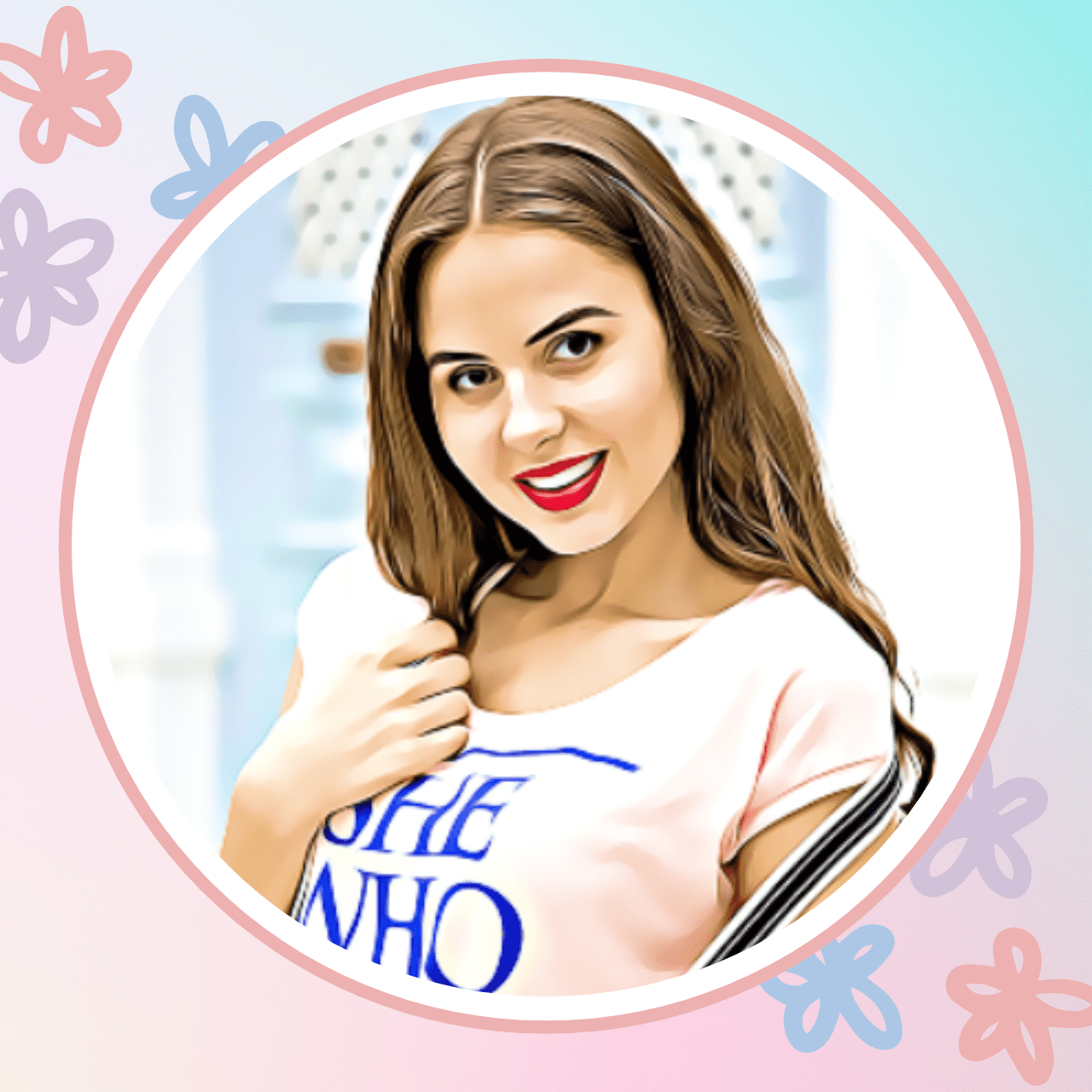 I am Olivia Johnson, a passionate writer who finds joy in creating engaging blogs on topics related to TV ads and commercial actors. I am deeply committed to the professional world of writing. Currently, I am working as a Content Writer at Myfavcelebs.com, where I continue to explore and contribute to the realm of entertainment and celebrity culture.
I have successfully completed my undergraduate education with a degree in English, and my love for reading books has been a lifelong pursuit, further enriching my appreciation for the written word. I have also worked as Ad Copywriter.
Please feel free to share your suggestions and comments.
Best Regards
Olivia Johnson (Author at Myfavcelebs.com)