Smart water commercial actor Pete Davidson a comedian and "Saturday Night Live" cast, takes the stage in a delightfully relatable new Smartwater campaign 2023. The commercial, titled "Same Kid," hilariously highlights the importance of hydration while jokingly admitting some of Davidson's dubious decisions in the past.
He has been in numerous smart water advertisements, and people adore the way he promotes this drinking water brand. Let's learn more about smart water alkaline commercial actor Pete.
Smart Water commercial actor 2023: Pete Davidson
Davidson, known for his unique brand of humor and vast tattoo collection, embraces the commercial's premise by reminiscing on his previous actions. The ad depicts a judgmental doctor removing one of his tattoos, highlighting the link between poor choices and dehydration.
Davidson shows the hilarious side of his adventures, from boldly striding down a runway in his own clothes to slamming into a waiter on a hoverboard.
Davidson introduces Smartwater Alkaline as one of his enhanced options among the amusing anecdotes. By introducing SmartWater into his daily routine, he emphasizes the significance of being hydrated.
Energy Brands, a division of The Coca-Cola Company, owns the well-known bottled water brand Smartwater. With its carefully adjusted pH levels, its alkaline variety, as seen in the commercial, provides improved hydration.
Understanding Davidson's involvement in the commercial requires knowledge about his past. Comedian, actor, and writer Pete Davidson was born on November 16, 1993, in Staten Island, New York.
He first rose to fame as a "Saturday Night Live" cast member, and since then, he's lent his talents to a number of amusing specials and motion picture endeavors.
What is the Pete Davidson Smartwater commercial about?
In a unique and entertaining way, the Pete Smartwater commercial combines humor, relatability, and the significance of hydration. In the commercial named "Same Kid," Davidson jokingly muses on his previous problematic decisions while emphasizing the link between dehydration and making poor decisions.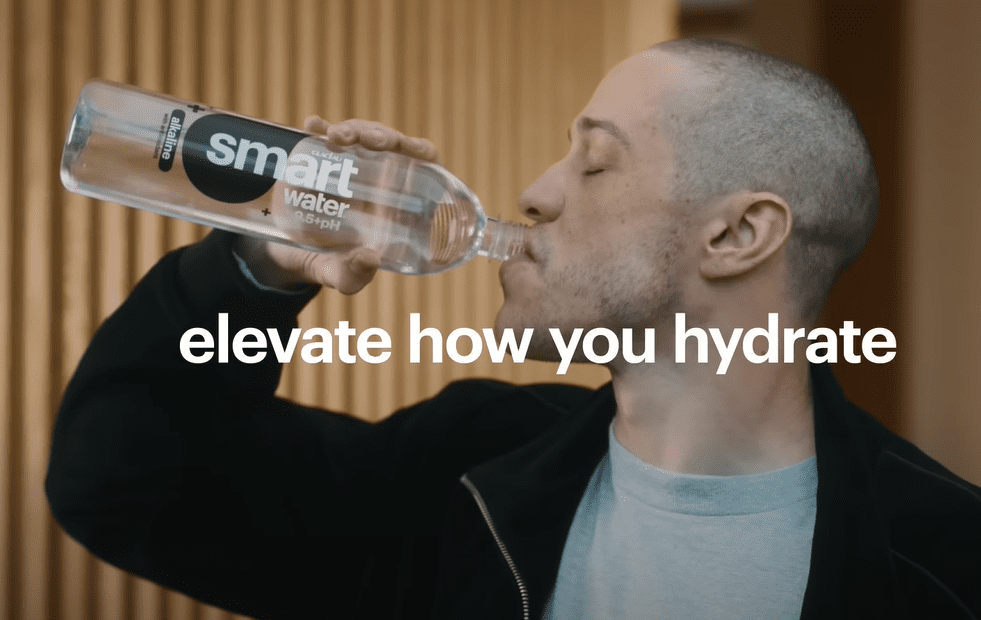 As the camera pans around him, we see Davidson jokingly admitting to improving several elements of his life, from video games to eating experiences.
However, amid the levity, the commercial shifts to a more serious message: the importance of staying hydrated. Smartwater Alkaline is one of Davidson's updated options, emphasizing the significance of good hydration in making better decisions.
The advertisement deftly combines Davidson's trademark humorous flair with the brand's main message.
what makes this SmartWater commercial so appealing?
The relatability component is what makes this commercial so appealing. Audiences can laugh at their own dubious decisions and understand the possibility that dehydration played a factor in those instances.
Davidson's charisma and self-deprecating humor lend another element of enjoyment to the advertisement, making it memorable and entertaining to watch.
Furthermore, the commercial alludes to Davidson's path as a comedian and his climb to prominence. His distinct blend of wit and genuineness, as seen on shows like "Saturday Night Live," has made him a household name in the entertainment industry.
Smartwater successfully taps into Davidson's audience while communicating an important message about hydration by including him in their advertisement.
In conclusion, Davidson's SmartWater commercial is a brilliant and entertaining combination of comedy, relatability, and the significance of proper hydration. It not only makes viewers smile, but it also motivates them to make better decisions in their own lives.
Smart water commercial: What do people think about this ad?
The SmartWater commercial starring Davidson was an instant hit with viewers, eliciting both laughter and acclaim. People can't stop laughing as they see Davidson hilariously own up to his previous poor actions and skillfully tie them to the importance of water.
The commercial's genius stems from Davidson's superb sense of humor, which perfectly blends his personal experiences with the important message of staying hydrated. It's pure comedic gold, leaving audiences in stitches and demanding more.
What makes the commercial even more enticing is Davidson's relatability throughout. We've all made dubious decisions, and his levity provides a refreshing and interesting viewpoint to the table.
It's as if he's communicating directly to each viewer, telling them that staying hydrated can lead to better judgments even in the most difficult situations. The SmartWater commercial clearly exemplifies the collaboration's greatness, with Davidson's comedic genius coming through in every scene.
His ability to seamlessly weave the message of hydration into his eccentric anecdotes is nothing short of hilarious. With this commercial, Smartwater undoubtedly hit the jackpot, successfully balancing humor, relatability, and the imperative of proper hydration.
The commercial hits the perfect blend between humor and the important message of staying hydrated.
Another Smart Water commercial: Pete Davidson'sTattoo Removal Ad
This is another smart water ad in which he was dealing with his tattoos. The commercial cleverly capitalizes on Davidson's iconic tattoo collection, which includes over 100 distinct designs. In reality, Davidson has started getting some of his tattoos erased or covered up.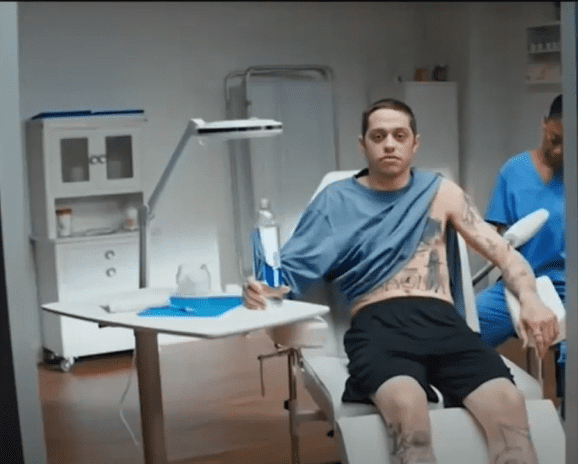 His choice to remove his tattoos derives from the difficulties of keeping continuity for film roles as well as the need for a fresh start.
Davidson addressed the complexities of tattoo removal and the varied feelings that accompany the process in an interview with Seth Meyers. He stated that some of his tattoos, which were once significant or hilarious, no longer fit his present path.
For him, the removal process has become an introspective experience, allowing him to reconsider his decisions and the messages he wishes to send through his appearance.
Pete Davidson's Career: A Journey to Success
Davidson's career started in the early 2010s with guest appearances on famous shows including "Brooklyn Nine-Nine" and "Wild 'n Out." His distinct blend of wit and genuineness drew the attention of both audiences and industry professionals.
Davidson went on to create his own comedy specials, "Pete Davidson: SMD" in 2016 and "Pete Davidson: Alive from New York" in 2020, firmly establishing himself as a comic force to be reckoned with.
Davidson has made progress in the film industry in addition to his comedic abilities. He gained critical acclaim for his performance in the semi-autobiographical comedy-drama film "The King of Staten Island" in 2020.
He also played Blackguard in "The Suicide Squad" in 2021, demonstrating his versatility as a performer. Now we will look at his personal life.
Pete's Personal and Professional Life
Davidson's personal life has also received media interest. His father, Scott Matthew Davidson, was a New York City firefighter who died in the September 11, 2001 attacks. This tragic loss has had an impact on Davidson's life and career as a comedian.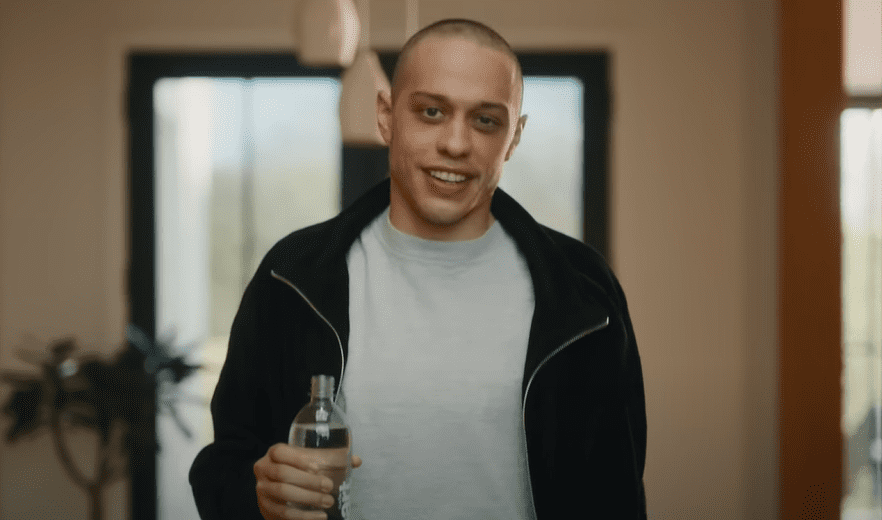 Davidson has found success and carved out his own route in the entertainment world despite the hurdles he has endured. His unique perspective and ability to turn personal events into accessible comedy have won him fans all over the world.
Conclusion
Smart Water commercial actor Pete Davidson's involvement in the SmartWater campaign emphasizes the necessity of hydration while displaying his distinct sense of humor.
Davidson's story teaches us that even bad actions may lead to personal growth and new possibilities as he continues to enchant audiences with his comedy and acting abilities. So, like Pete Davidson, let us raise a bottle of Smartwater and toast to make smarter decisions.
FAQs
Who is the actor in the SmartWater commercial?
The actor in the SmartWater commercial is Pete Davidson, a popular comedian and former cast member of "Saturday Night Live.
What is the main message of the SmartWater commercial?
The main message of the SmartWater commercial is the importance of staying hydrated while incorporating humor and relatable anecdotes.
Is Pete Davidson known for his comedic talent?
Yes, he is widely recognized for his comedic talent, as showcased in his stand-up performances and appearances on "Saturday Night Live."
What makes the SmartWater commercial unique?
The SmartWater commercial stands out due to its clever integration of Pete Davidson's personal experiences, humor, and the promotion of hydration.
How does Pete Davidson connect his questionable choices to hydration in the commercial?
He humorously links his past questionable decisions to the idea that staying hydrated with Smartwater can help make smarter choices overall.
Has Pete Davidson been in other commercials?
While he is primarily known for his work in comedy and television, the SmartWater commercial is a notable addition to his portfolio.
What is the significance of the Smartwater brand?
Smartwater is a well-known brand of bottled water that emphasizes the importance of hydration and offers a refreshing and hydrating choice for consumers.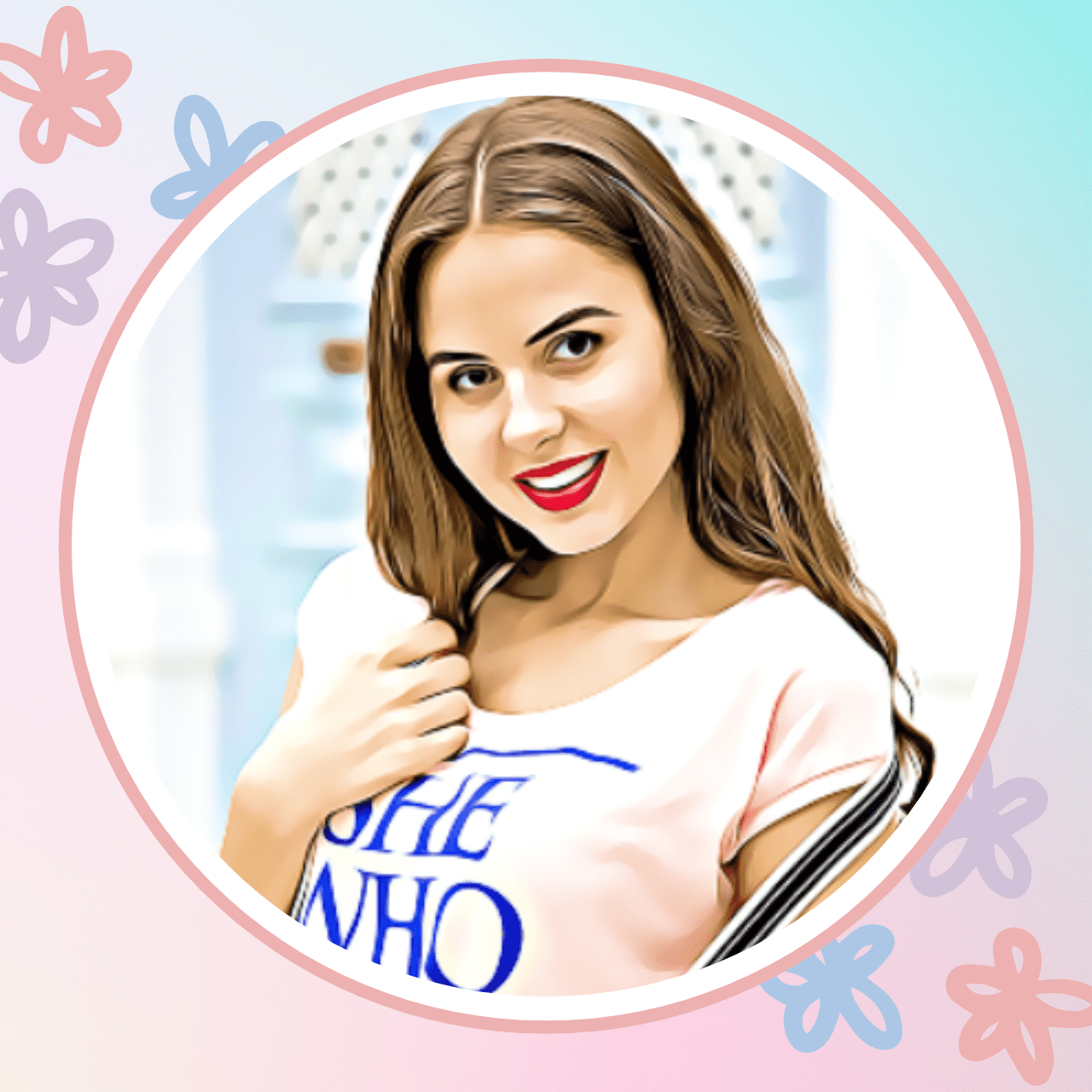 I am Olivia Johnson, a passionate writer who finds joy in creating engaging blogs on topics related to TV ads and commercial actors. I am deeply committed to the professional world of writing. Currently, I am working as a Content Writer at Myfavcelebs.com, where I continue to explore and contribute to the realm of entertainment and celebrity culture.
I have successfully completed my undergraduate education with a degree in English, and my love for reading books has been a lifelong pursuit, further enriching my appreciation for the written word. I have also worked as Ad Copywriter.
Please feel free to share your suggestions and comments.
Best Regards
Olivia Johnson (Author at Myfavcelebs.com)