Are you looking for Peloton commercial actor? If yes! then Actor Chris Meloni stars in Peloton's bold new ad promoting their app, with humor and nudity sparking social media chatter. The renowned American fitness equipment and media firm Peloton has once again captured customers' attention with a daring and humorous new commercial.
This striking commercial, which was released in honor of National Nude Day, features Meloni exercising while subtly drawing attention to Peloton's exercise software. Peloton Bike company seeks to rebuild its brand image and engage consumers despite recent problems using its strategic marketing approach. Let's get into the specifics of this engrossing and provocative ad.
Highlights:
Peloton's daring new ad features Chris Meloni working out in the nude, creating social media buzz.
The bike company embraces cheeky marketing by showcasing Chris Meloni's workout routine in the buff.
It taps into Maximum Effort's snarky humor and cultural relevance once again, with Chris Meloni as the star.
Maximum Effort's new Peloton ad cleverly references Chris Meloni's iconic role on "Law & Order: SVU."
Peloton commercial actor Chris Meloni Nude: A Bold Approach to Marketing
Peloton's recent marketing campaign featuring actor Chris Meloni in the nude has undoubtedly raised eyebrows and ignited conversations. With a bold and audacious approach, the company aimed to capture the attention of viewers and create a memorable and engaging experience.
By showcasing Chris Meloni working out in the buff, Peloton took a daring step that deviates from traditional advertising norms.
The most recent Peloton commercial, created by the advertising firm Maximum Effort, adds a fun touch by showing Chris Meloni working out in various outfits.
Maximum Effort successfully incorporates a splash of cheekiness into the company's marketing plan because of its reputation for having a snarky sense of humor and its capacity to capitalize on popular cultural issues. Meloni, who is well-known for playing Detective Elliot Stabler on "Law & Order: SVU," is featured in the advertisement to attract attention to Peloton's app.
Shifting the Focus to the App
In the 60-second ad, Meloni makes fun of the idea that some people would find his exercise regimen peculiar. He stresses, though, that what he finds odd about the Peloton app usage is the misunderstanding that surrounds it.
The advertisement successfully emphasizes the app's capacity to inspire users to participate in a range of workouts, highlighting its adaptability beyond the company-renowned training apparatus. This change in emphasis reflects the company's desire to market the app as a key component of its fitness ecosystem.
Peloton's Ongoing Journey
The debut of this intriguing commercial comes as Peloton continues to work on a turnaround strategy. The business recently underwent a considerable transformation as a result of market issues, including the outsourcing of hardware production and the hiring of Barry McCarthy as CEO.
the company seeks to repair its reputation and reestablish a connection with customers by focusing more on its app and making use of Chris Meloni's celebrity, especially after experiencing a string of unfavorable publicity in the past.
Social Media Buzz and Consumer Response
The provocative and entertaining concept of the Meloni-starring advertisement is certain to spark a lot of social media discussion. Even with his private parts humorously cropped, the actor's ripped training routines lure viewers in.
The daring marketing strategy used by the exercise bike company and its willingness to embrace current cultural discussions may help pique consumers' interest in the company once again.
Peloton ad christopher meloni: People reaction
Viewers responded in a variety of ways to the Chris Meloni-starring Peloton advertisement. Many people laughed out loud at the commercial and commended Chris for his comedy act, praising his amazing body and sense of humor. Some viewers said the advertisement stood out from other ads because it was funny and different.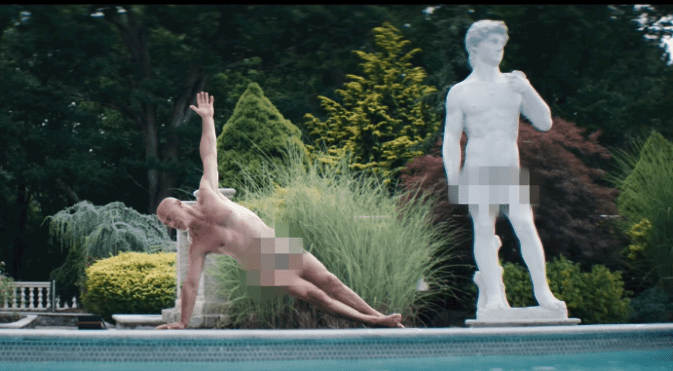 the company's use of humor to market its product was also praised for making its product look excellent in the advertisement. However, there were also many who questioned whether a comparable advertisement starring a woman would have been viewed differently, raising issues of possible discrimination.
Overall, viewers were impressed with the commercial's comic components, Chris Meloni's participation, and the unorthodox strategy used by the company's marketing department.
Highlights on people's reactions:
Chris Meloni's amusing exchange with the cameraman delighted viewers, who thought it was hilarious and praised his comedic timing.
Many others were inspired by Chris's physical look and said it gave them the drive to get fitter themselves.
Fans of Christopher Meloni emphasized their continuous enthusiasm for the actor, saying that they had grown to love him even more as a result of the commercial.
Some viewers said Ryan Reynolds was responsible for the commercial's success since they didn't think the bike company could have come up with something that amusing on its own.
People thought the humorous combination with the product demonstration made for an enjoyable and successful advertisement.
"Excellence at its best" was used to characterize the advertisement, which also received accolades for its originality and entertainment value.
Peloton Commercial Chris Meloni naked exercise Ad Video
Looking Ahead
The company is striving to improve as it pursues its aim, focusing on its app and utilizing Maximum Effort's creative abilities. In a highly competitive fitness market, the company hopes to attract new consumers and retain existing ones by emphasizing the app's flexibility and inspiration.
The combination of a compelling ad showcasing the charming Chris Meloni and a shrewd marketing move demonstrates Peloton's commitment to rebuilding itself and its aim to return stronger than before.
Peloton Commercial Actor Chris meloni Biography
Christopher Peter Meloni, born April 2, 1961, is an American actor best known for his work in television and movies. On the long-running NBC series Law & Order: Special Victims Unit, he played NYPD Detective Elliot Stabler, a position he repeated in the spin-off series Law & Order: Organised Crime.
Meloni's outstanding performance in the show garnered him a nomination for a Primetime Emmy Award in 2006. Prior to his popularity on Law & Order, he enthralled fans from 1998 to 2003 as inmate Chris Keller on the HBO prison drama Oz. Meloni also appeared in and executive produced the Syfy sitcom Happy! from 2017 to 2019.
Meloni movies
Meloni shows his range in the field of entertainment by taking on a variety of roles in films including 12 Monkeys, Fear and Loathing in Las Vegas, Runaway Bride, Wet Hot American Summer, and Harold & Kumar.
Additionally, he has acted in 42, White Castle, Man of Steel, and Green Lantern: First Flight, among other movies.
Education and work
Did you know that Meloni, a talented actor we all admire, actually started his journey in the capital of our country? Growing up, he was one of three children in his family. Back in his school days at St. Stephen's School in Alexandria, Virginia, he showed off his skills as a quarterback for the football team. Pretty impressive, right?
After completing his history degree from the University of Colorado in Boulder, Meloni decided to follow his passion for acting. He headed to the bustling city of New York to pursue his dreams.
But before his big break, he dedicated himself to honing his craft at prestigious institutions like the Centre for the Media Arts and the Neighbourhood Playhouse School of Theatre. Talk about dedication!
You won't believe this, but before his acting career took off, Meloni had quite a range of odd jobs. He worked in construction, handled the crowds as a bouncer, served drinks as a bartender, and even helped people achieve their fitness goals as a personal trainer. It's fascinating to see how he explored different paths before becoming the well-known and beloved actor we know today.
Meloni's journey is a testament to the power of following your passion and persevering through different experiences. It's truly inspiring to see how he transformed from a student-athlete to a successful actor. We can all learn a thing or two from his remarkable story!
Career
Meloni's career got off to a sluggish start with commercials and minor roles in films and TV shows. One of his well-known early roles was the reckless son of a Mafia don in the 1996 movie Bound. His performances in the films Dinosaurs, NYPD Blue, and Runaway Bride stood out in particular.
The well-known humanitarian Meloni has actively supported LGBTQ+ initiatives. He has been featured in PSAs, and the Human Rights Campaign gave him its Equality Award in 2006.
In addition, Meloni has contributed to charitable events like Celebrity Poker Showdown and Celebrity Jeopardy! that have raised money for charities like Feed the Children, Big Apple Circus Clown Care Programme, Montefiore Advocacy Centre, and Smile Train.
Chris Meloni's wife, family, daughter, and Personal life
Meloni is married to production designer Doris Sherman Meloni, and the couple has two children together through surrogacy. His Law & Order co-star Mariska Hargitay, is the godmother of his daughter, and he has a close bond.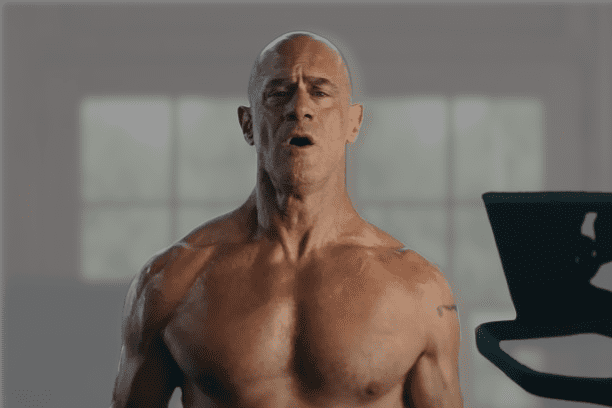 Meloni has tattoos of his family's Chinese astrological chart on his right lower leg, a butterfly on his left upper thigh, and a cubist-inspired depiction of the crucifixion of Christ on his upper left arm. He bought the home featured in the Ozzie and Harriet television series in 2014.
In 2021, Meloni's distant ancestral relationship to Nancy Pelosi was made public on PBS's Finding Your Roots, highlighting an intriguing connection between the political and entertainment worlds.
Trivia
Following the shocking twist in the "Sex and the City" streaming revival that resulted in the demise of the beloved character Mr. Big, portrayed by Chris Noth, Peloton and Maximum Effort promptly collaborated on an ad that featured Noth and referenced the storyline.
Conclusion
The most recent Peloton advertisement, which features actor Chris Meloni exercising while naked, exemplifies the company's creative and risk-taking marketing strategy. With a dash of humor and the help of Meloni's celebrity, the company hopes to shift attention away from itself and onto its feature-rich workout software.
This striking commercial illustrates the brand's tenacity and resolves to win back the trust and engagement of its audience. It will be interesting to see how the company reworked strategy connects with customers and shapes its future in the fitness market as it continues on its road to recovery.
FAQs
What is the concept behind Peloton's nude ad featuring Chris Meloni?
The concept of the ad is to grab attention and spark conversation by showing Chris Meloni working out in the buff.
Why did Peloton choose to release the ad on National Nude Day?
Peloton timed the release of the ad to coincide with National Nude Day to create a buzz and generate more interest.
Is Chris Meloni actually nude in the ad?
While Chris Meloni appears to be nude in the ad, his private parts are censored for obvious reasons.
Why did Peloton use a celebrity like Chris Meloni in this ad?
The company employed a celebrity like Chris Meloni to add star power and create intrigue around the advertisement
How does this ad differ from Peloton's previous marketing campaigns?
This ad takes a different approach by using humor and provocative imagery, whereas previous campaigns focused on showcasing popular instructors.
Now you can see more commercials cast at Myfavcelebs.com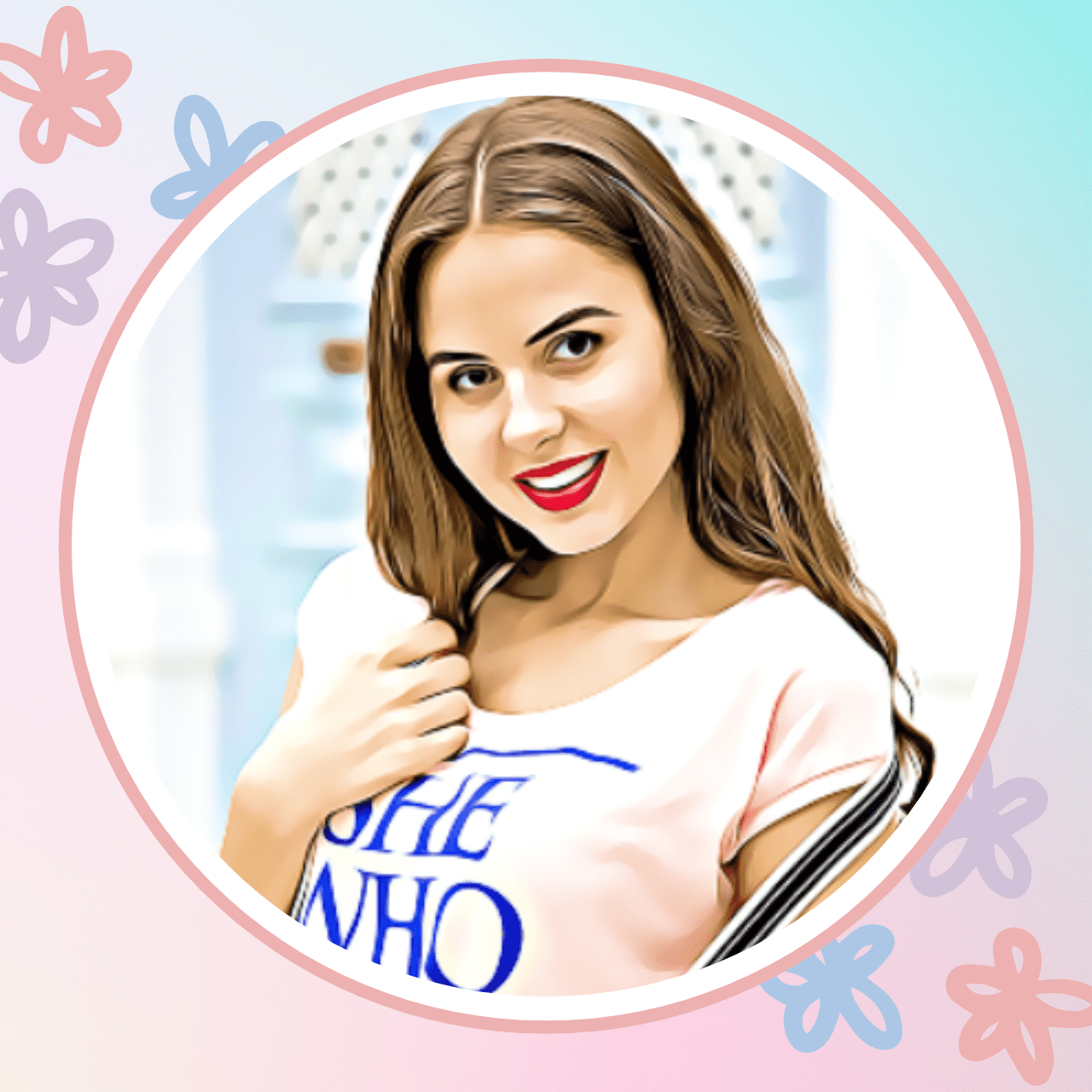 I am Olivia Johnson, a passionate writer who finds joy in creating engaging blogs on topics related to TV ads and commercial actors. I am deeply committed to the professional world of writing. Currently, I am working as a Content Writer at Myfavcelebs.com, where I continue to explore and contribute to the realm of entertainment and celebrity culture.
I have successfully completed my undergraduate education with a degree in English, and my love for reading books has been a lifelong pursuit, further enriching my appreciation for the written word. I have also worked as Ad Copywriter.
Please feel free to share your suggestions and comments.
Best Regards
Olivia Johnson (Author at Myfavcelebs.com)