If you're on the search for the elusive T Mobile Commercial Actress and the iPhone Commercial Actress, you've landed on the right page. The star-studded T-Mobile campaign for 2023 has captured the imagination of viewers, and the actress behind the magic is none other than Lili Reinhart.
But that's not all; she's not just the face of T-Mobile, she's also the charismatic lead in the iPhone 15 Pro campaign. So, let's unravel the intriguing world of Lili and the enchanting campaigns that have everyone talking.
We've looked at the enchanting ad starring Lili and its imaginative story. Continue reading if you want to learn more about the actress and the intriguing story behind this advertisement. The extensive details are immediately below, waiting to be discovered.
T Mobile Commercial Actress 2023: Lili Reinhart
T Mobile Commercial Actress's name is Lili Reinhart. Her real name is Lili Pauline Reinhart (born September 13, 1996). She is an American actress and producer.
The adoration for Lili Reinhart knows no bounds, with viewers from all walks of life falling in love with her captivating presence in the ad. Her unique blend of charm, wit, and warmth has struck a chord with audiences, making her an engaging and relatable figure.
Now, let's take a closer look at the imaginative world of the 'Deep Thoughts: iPhone 15 Pro on Us' ad, where Lili Reinhart's star power shines in a role that's both creative and unexpected.
You may Also Like: T mobile commercial actors
iPhone commercial actress: Lili Reinhart
Indeed, the iPhone 15 Pro is extensively promoted in the T-Mobile campaign starring Lili Reinhart. This connection has piqued the interest of viewers, with many wondering if the iPhone commercial actress is the same as the T-Mobile actress.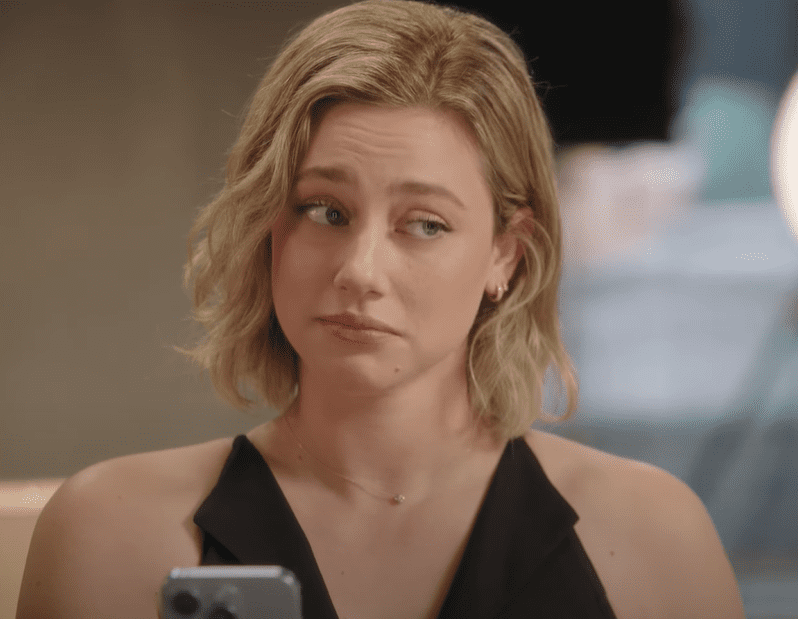 The answer is definitely "yes." Lili Reinhart, the amazing actress who appears in both the T-Mobile and iPhone 15 Pro advertisements, is the face of this enthralling campaign.
T Mobile Commercial iPhone 15 Pro on Us 2023: Explained
The advertisement starts with a shot of Lili Reinhart in a makeup chair dressed elegantly in a black dress. As the camera zooms in, we see her deep in concentration, thinking, "Why don't I have the new iPhone 15 Pro?" "My name is Lili Reinhart, and I'm an actress, producer, and dog mom."
The creativity of this advertising truly differentiates it. Lili's mirror reflections come to life, kicking off a conversation with her. Her mirror reflection recommends that she take her lovely pet to an American wireless network operator, where both new and existing customers may obtain the iPhone 15 Pro with Titanium.
Lili's thoughts race as she looks in the mirror at herself, and she exclaims, "I should definitely go to T-Mobile." This is amazing!" Her reflection, in a humorous twist, responds, "I think you're amazing!" "You're amazing!" Lili speaks up. After a heated exchange, they both exclaim, "We're amazing!"
The advertisement closes with a voice-over artist shouting, "T-Mobile is fantastic! Get the new iPhone 15 Pro with Titanium right now for free, and take advantage of the possibility to upgrade every year."Who's the good guy?"
This compelling and clever advertisement not only features the amazing Lili Reinhart but also ensures that you remember her connection to both T-Mobile and the enticing iPhone 15 Pro. The commercial made its debut on October 11, 2023.
You may Like: Shutterfly Commercial Actress
T Mobile Commercial featuring Lili Reinhart: Review and People's Reaction
The American wireless network operator TV ad starring Lili Reinhart has been making waves, and it's not hard to see why. This imaginative ad, which promotes the iPhone 15 Pro, has garnered a mix of reactions.
I personally loved this ad and the creative way it unfolds. Lili Reinhart's presence and charming interaction with her animated reflection in the mirror make it a standout ad.
Some viewers absolutely love it, hailing it as a breath of fresh air in the world of TV ads.
Lili Reinhart's presence brings a unique appeal to the ad, and her relatable personality makes it all the more appealing. The creative twist, with a talking mirror engaging in a whimsical conversation, adds a layer of entertainment to the ad that many have appreciated.
However, it's not without its share of mixed reviews. Some find it quirky, and the unconventional approach may leave a few scratching their heads.
But one thing is clear: whether you're a fan or on the fence, this T-Mobile campaign is an experience in itself, showcasing the charisma of Lili Reinhart and promoting the iPhone 15 Pro in a distinctive and memorable way.
T-Mobile commercial actress Lili Reinhart Biography, and Career
Lili Reinhart is an American actress known for her versatility and captivating performances. On September 13, 1996, she was born. Her most well-known role was that of Betty Cooper in the successful TV show "Riverdale," which ran from 2017 to 2023.
Lili's acting abilities were also on display as Annabelle in "Hustlers" in 2019 and Grace Town in "Chemical Hearts," a film based on Krystal Sutherland's novel, in 2020.
Early Childhood
Lili Reinhart grew up in Bay Village, Ohio, and was born in Cleveland. She developed her passion for singing, acting, and dancing when she was ten years old, eventually convincing her mother to take her to auditions in New York City.
Even though the first few months were plagued with obstacles and uncertainties, she took a risk and moved to Los Angeles at the age of 18 to pursue her acting dreams.
Career
Lili's acting career began with appearances on television shows like "Scientastic!" (2010) and "Law & Order: Special Victims Unit" (2011). She's also appeared in movies like "The Kings of Summer" (2013) and "Miss Stevens" (2016).
Lili was cast as Betty Cooper on "Riverdale" in 2016, catapulting her to fame. She also appeared in "Hustlers" and "Charlie's Angels" in 2019, and she expanded her artistic horizons as an executive producer on the romantic thriller "Chemical Hearts."
Lili Reinhart as American Express ambassador
In addition to her acting career, Lili Reinhart has served as an ambassador for American Express and CoverGirl. Her collection of poems, "Swimming Lessons: Poems," debuted at No. 2 on The New York Times Best Seller list.
Personal Information
Lili Reinhart practices meditation and is outspoken about her Christian faith. She is presently pursuing certification as a Reiki healer, exhibiting her commitment to holistic health.
Lili has been candid about her struggles with depression, anxiety, and body dysmorphia, which has endeared her to many of her fans. She made a huge announcement in June 2020, officially declaring herself to be bisexual, which was met with immense sympathy and respect.
About T-Mobile
T-Mobile US, Inc., pronounced "tee-moh-buhl," is a major cellular network operator headquartered in Overland Park, Kansas, with offices in Bellevue, Washington. Notably, as of April 2023, the global telecommunications juggernaut, Deutsche Telekom AG, owns approximately 51.4% of the firm.
It was formed in 1994 by John W. Stanton, a former employee of the Western Wireless Corporation. The company's fortunes altered substantially when Deutsche Telekom purchased a significant stake in 2001, necessitating a rebranding as T-Mobile.
Final words
To recapitulate, Lili Reinhart, the T-Mobile Commercial Actress of 2023, is a multi-talented individual whose presence in the field of advertising adds a touch of elegance and ingenuity.
Her exceptional career, candor about personal issues, and dedication to holistic well-being make her not only a compelling performer but also a sympathetic and inspiring figure in the entertainment industry.
When it comes to American wireless network operators' dedication to providing cutting-edge wireless services, its 2020 merger with Sprint, and its continued efforts to remain competitive, the company is unwavering.
FAQs
Who is the actress in the T Mobile commercial 2023 promoting the iPhone 15 Pro?
The actress featured in the T-Mobile ad promoting the iPhone 15 Pro is Lili Reinhart.
Is Lili Reinhart also the actress in the iPhone commercial?
Yes, Lili Reinhart is the same actress featured in both the T-Mobile commercial and the iPhone ad, making her the face of these campaigns.
When was the T-Mobile campaign published?
The T-Mobile ad, which features Lili and promotes the iPhone 15 Pro, was published on October 11, 2023.
Is Lili Reinhart involved in any other ventures beyond acting?
Yes, besides her acting career, Lili Reinhart has been an ambassador for brands like American Express and CoverGirl.
Who is the girl in the T-Mobile commercial?
The girl featured in the T-Mobile ad is Lili Reinhart.
What's unique about the T-Mobile commercial featuring Lili Reinhart?
The T-Mobile ad stands out due to its creative and imaginative approach. Reinhart's animated reflection in the mirror engages her in a conversation, adding a touch of whimsy to the ad. This interaction is what makes the ad truly memorable.
Read More At Myfavcelebs.com
Choice home warranty George Foreman: Protect Your Home
Newday USA Blonde Girl Juliana Folk
Progressive Sunroof Actress: Eileen O'Connell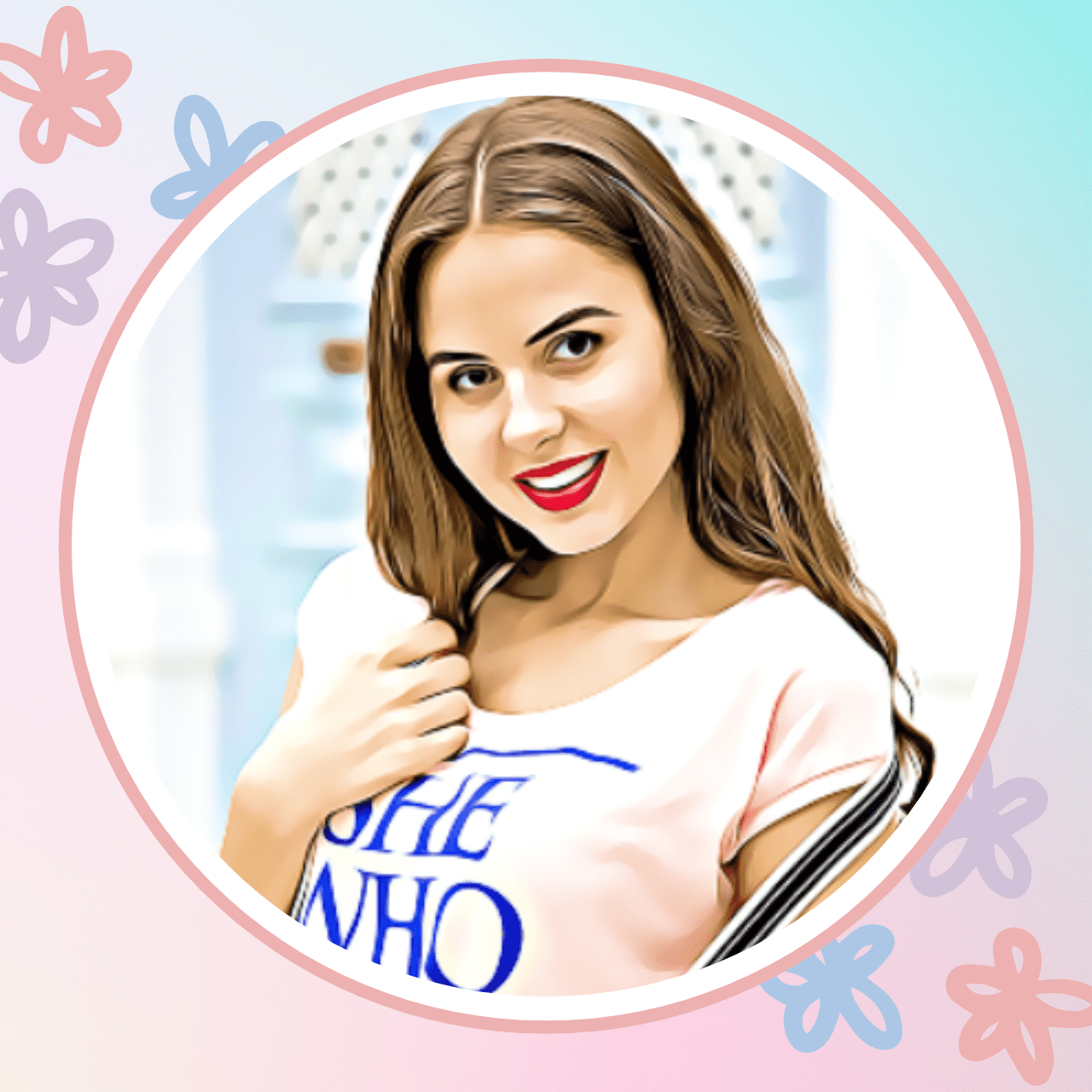 Hello! My Self Olivia Johnson.
I am a passionate writer and love writing blogs. I am also very much interested in the professional world of writing. As of now, I am working for Myfavcelebs.com as a full-time content writer. I have completed my graduation in English Subject and love to read books.
Feel free to comment with your suggestions.
Best Regards
Olivia Johnson ( Author at Myfavcelebs.com)