The Onlyfans menu is an essential and helpful selling tool for creators. Onlyfans tips menu can boost your earnings, PPV earning, and tips. The platform is becoming popular among onlyfans content creators, it is essential to have a well-designed and attractive Only fans menu to serve better content in front of your loyal fans. You can also use them for your fansly and other subscription-based social media profile.
Services that you could provide:

-Customized images

-Personalized videos

-Personalized Live streamin

-Online E-dating

-Voice calls.

-Video chats.

-custom Dress videos

-Girlfriend experience

-Birthday offers

-Selling your feet pics

-Personalized Feet videos
Only fans menu templates may help creators as well as subscribers to see the prices of custom videos and photos, and PPV Messages on this platform. So, today we will see some templates and discuss things you should consider before you begin designing.
We'll get into the step-by-step process to design the perfect list and also see the best menu ideas for onlyfans.
Why is onlyfans Menu Design Important?
Did you know that your only fans menu design has the potential to impact earnings directly? Your menu is a promotion for your subscription page.
It's an essential digital content-selling tool. It must be visually appealing and easy to read. That aside, it should also attract subscribers with its various lucrative content options.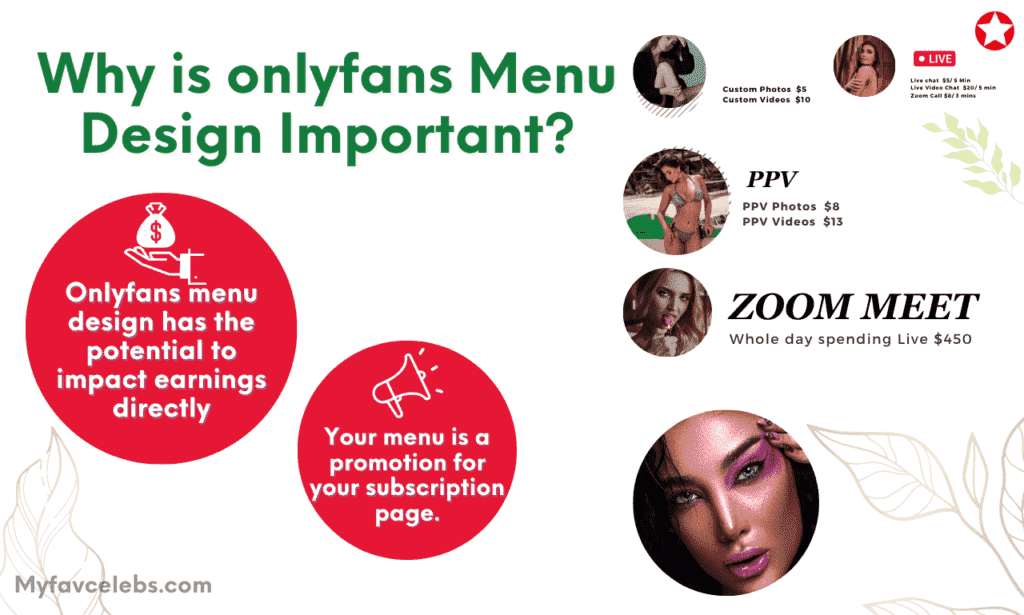 The color, pics, design, order of prices, and overall layout can affect your fan's purchasing judgment.
Things to consider for Onlyfans tip Menu ideas
According to our research, most visitors/fans can only retain seven parts of information simultaneously. It means you must list valuable items in your menu to eliminate confusion.
That doesn't mean you should only have seven items. But as a creator, you should consider categorizing your only fans' items and maintaining the offerings within each category between three and seven. 
For most creators, a giant item list can confuse your fans, which will let your earnings down.
Essential points for Onlyfans Menu Ideas
Make it simple and sweet.
Put only a little text.
Use photos and prices.
Make it attractive.
Mention essential items only.
Set reasonable prices to sell better.
Use light colors to make it professional.
Do not use Abusive words.
Mention warnings and terms and conditions.
Choose mixed fonts.
Use your content theme.
Offer Extras.
How to make a menu on onlyfans?
Now we will guide you step by step so that you can create an awesome design. Here are 9 only fan design tips to help you create the perfect and attractive list of items that sell.
1. Understand Your Target Subscribers
When designing your only fans menu, you must understand who you're trying to attract with your videos and photos. Are you targeting adult media lovers or fitness freaks looking for fitness tips? Or do you want younger fans? You need to know what type of fans you're acquiring to know where to start when creating your design.
For example, if your page is about NSFW content, your design will be according to your hot stuff. Thus, the good idea is to sell online exclusive stuff like tapes and photos that are affordable, easily accessible, and sharable. This type of experience would favor many fans in that NSFW niche and increase your PPV sales and tips. However, if you are starting an onlyfans, you can read our dedicated article for best onlyfans content ideas.
2. Onlyfans menu Pricing
You must maintain menu prices within your target audience budget while maintaining media quality. Now the question is how to record quality videos for onlyfans, so the answer is you can use the Onlyfans camera setup to increase your tape and picture quality.
It is also recommended to use proper onlyfans lightning to record clear videos.
Here are a few more ways to properly balance cost and quality. Firstly, remember that you have to satisfy your fan's expectations with a low price.
Secondly, you have to focus on quality rather than tons of videos every week; you should Remember that quality beats quantity every time. Try to down your monthly subscription fees so that people can at least subscribe to your page to see your exclusive stuff. If they find your exclusive media amazing, they will give you tips and accept your PPV messages at a high cost.
So, Include a lower monthly subscription price in your menu. Limit the costly ideas and fill the design with a lower-price PPV, Chat, Live stream, etc. Having multiple options typically adds to customer happiness.
3. Make your most fruitful service item visible
Your selling items, like PVVs, Online chat, Live, videotapes, etc., should be placed in the right place to catch the user's attention.
The design's upper right corner is perfect for bringing attention. The placement, fonts, pictures, and color scheme should attract users' attention to your most profitable items.
4. Avoid using the Dollar sign in the menu
The dollar sign may unconsciously affect your fans, making them price-conscious. You should remove all currency signs from your design.
5. Choose Your Only fans Menu Style and Design
Design the layout of your menu by including the guides of engineering. It would help if you also thought about the "only fans items look" and how your fans will accept this. Your design items should be easy to read and visible.
You can use different online design tools to create your menu design, such as Canva. You can use predesigned graphics, which is as effortless as copying and pasting.
Use Visual Hierarchy & niche Color Theme
Visual hierarchy refers to the order in which items appear on an items page. In terms of Only fans, fansly menu design, visual hierarchy decides how much individual space parts of the design bring up.
The most important and best-selling item on the only fans menu should be placed first. After that comes the second most vital part of the only fans menu, followed by other less essential items.
6. Menu Color Theme
The color scheme makes the design layout attractive. You should use your niceh and select a color according to it. You can use neon colors for design if you love your room's background neon theme.
Use some lucrative colors that increase the suspense and attract your fans. You can also use your social media theme.
7. Showcase your Onlyfans niche in your menu
Your design should represent your content type; if you are an adult star, you should design your menu as per NSFW content. It should reflect who you are and what makes you unique. You can Ask yourself questions like:
Do you want to bring a sense of hotness?
What do you want your fans to think about when they see your items list?
How do your only fans fit into your industry?
How do you want your followers to share your page?
Think about how you want to show your page services via your sexy design.
8. Make your menu outstanding and memorable
If you want to make sure your social media followers and visitors remember your design and its items, then make sure your design has something memorable.
You have to Add your social media links and your profile picture on the top to recognize you at first look.
You can also use your cartoon characters and memorable quotes so that people can remember you even after leaving your page.
9. Be Creative But Natural
If you plan to have an elegant design for your online content, you must ensure that you create and edit your exclusive media successfully. A mouth-watering graphic means nothing if you don't meet the fans' and subscribers' expectations.
Also, maintain consistency and follow the timing if you have sold something like 5 minutes of live chat with your fans at a fixed time at night or day.
That is how you can design your lucrative items through graphics.
Onlyfans Menu Maker: FREE and Paid
We'll provide you with two recommendations if you're looking for a stunning design that will boost Onlyfans sales. You have two choices for how to produce your items list: either work with a freelancer or do it yourself.
Hiring a freelancer on Fiverr to produce the ideal menu design is a good idea if you want to put effort into your design but lack the time. Only a list of your products—including PPVs, personalized movies, images, live streams, etc.—along with their prices has to be submitted. You may also upload your photos to improve their attractiveness and beauty.
Onlyfans Menu List
The first and most crucial phase is pointing out the items you don't want to get rid of. So, the menu contains your best sellers and other items synonymous with your content type. For example, if you run an adult page called "feet-lovers," then customer feet pictures and videos should always be one of the options on your design.
Your objectives cannot be met by a design that contains extraneous ideas. As a result, if your fans pay you, always highlight the goods you can give them.
Here is the list of items:
Customized Photos
Personlised Videos
Live chat
Live chat
Zoom call chat
Live stream
PPV Messages.
Personal Chat
PPV videos.
PPV Photos.
Se*x*t*ing For Adult
Close Up Photos
close up Videos
Customized videos
Photos in Special dress
Video in Special dress
E-dating
Whole day spending
Consulting for beginners
These essential items must be in your tip menu so that people can select them as per their needs and requirements.
Onlyfans Menu Template
Now we will see some only fans menu concepts so that you can take ideas and create your own. We have followed all the above guidelines so that you have to take beautiful ideas.
Template #1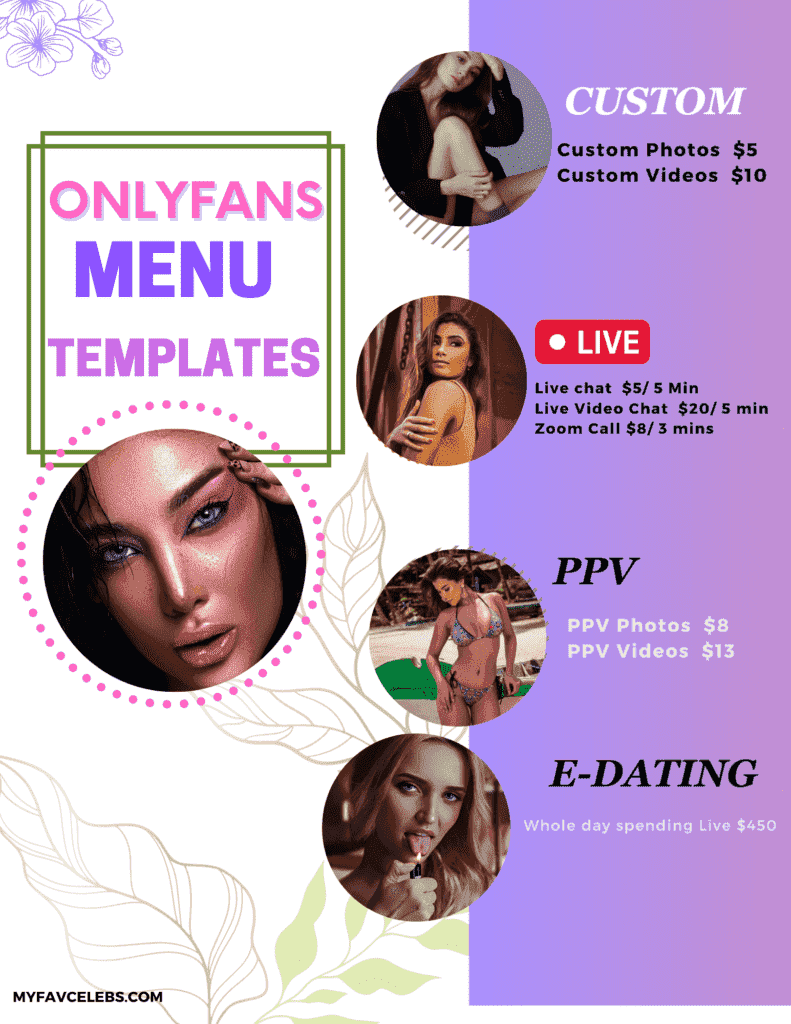 Template #2
Template #3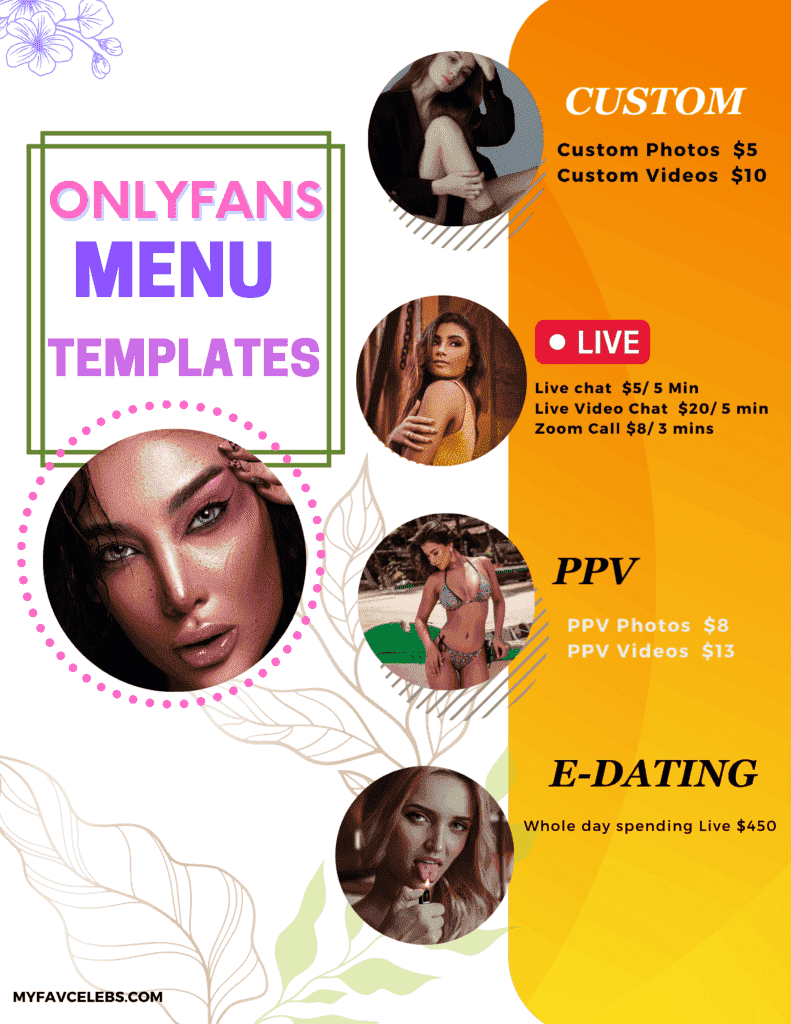 Now we will see more examples so that you can take more ideas.
Onlyfans menu examples
Here we are giving some examples that popular content creators use. The examples will give you an overview of how top creators use the menu to boost their earnings.
Example #1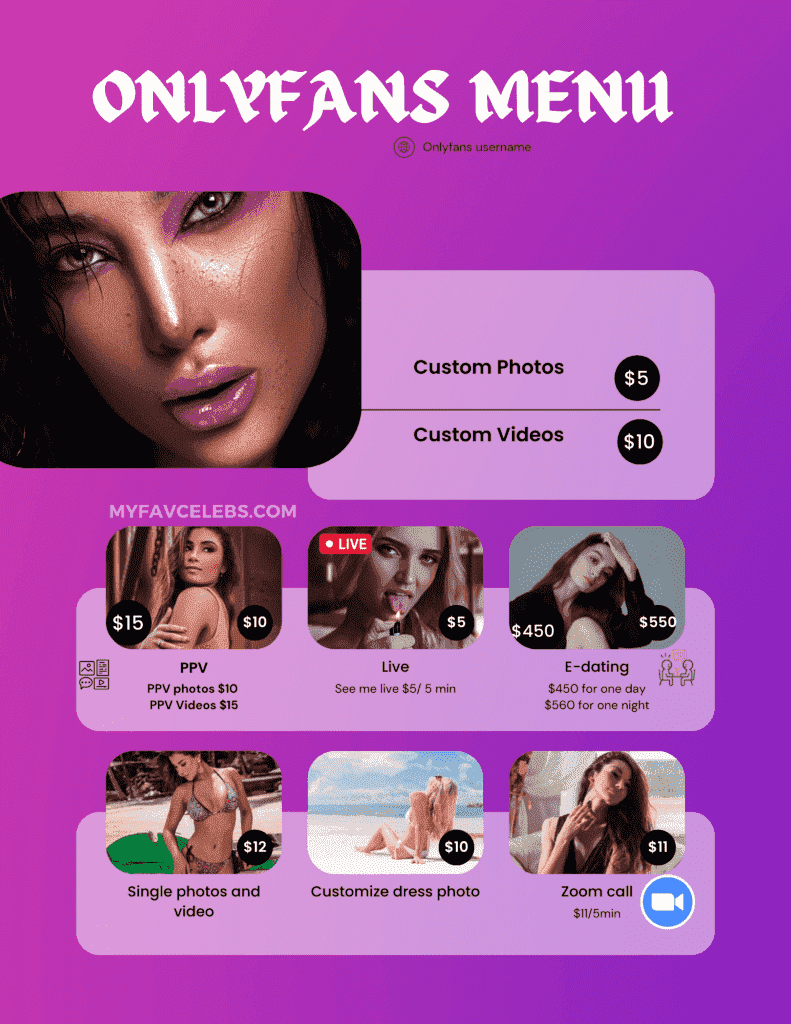 Onlyfans menu ideas
These ideas are unique and recommended by our team so that you can outstand yourself in your new attractive way.
We have used some new ways to show your services and price. If you are an adult creator, you should use this one to bring new fans and increase your earnings. However, you can read our dedicated article on weird ideas to make money on onlyfans.
Ideas #1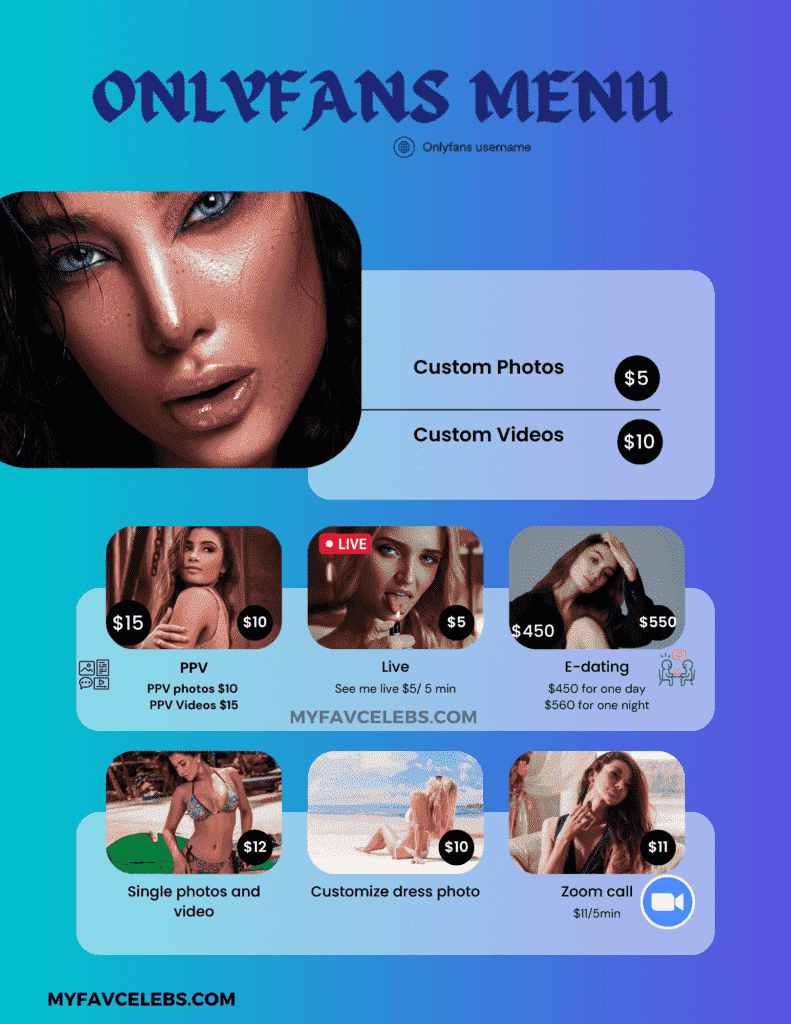 Final Words on menu ideas for onlyfans
Hope you liked our free onlyfans menu templates and ideas. We have given the best tips for your subscription-based menu design.
Now you will able to create your outstanding design. However, we have also suggested an online menu maker like canva and Fiverr so that you can quickly proceed further. Next, we will take some FAQs so that you can clear your remaining doubts.
FAQs
What is the best price for the onlyfans menu?
It would help if you mentioned that the subscription price is lower and charges more for PPVs and personal videos and photos.

Hey, Guys! Myfavcelebs here. I am a passionate celebrity writer. Hope you are enjoying and loving My free Celebrity updates, News, Wiki, Biography, tips, and growth hacks.
Stay tuned with us! and learn what is beneficial for you!
Grow more and earn more.
Best Regards
Myfavcelebs (Author )