If you're an OnlyFans model, chances are you've been wondering how to promote your account without a large following base on social media. While using your own social media is a great way to reach new fans, it's not the only way. In this article, we will dive deeper into how to promote your Onlyfans without social media
Most effective social media
The most effective social media to promote your Onlyfans account is Far Reddit.
Some key statistics about Reddit: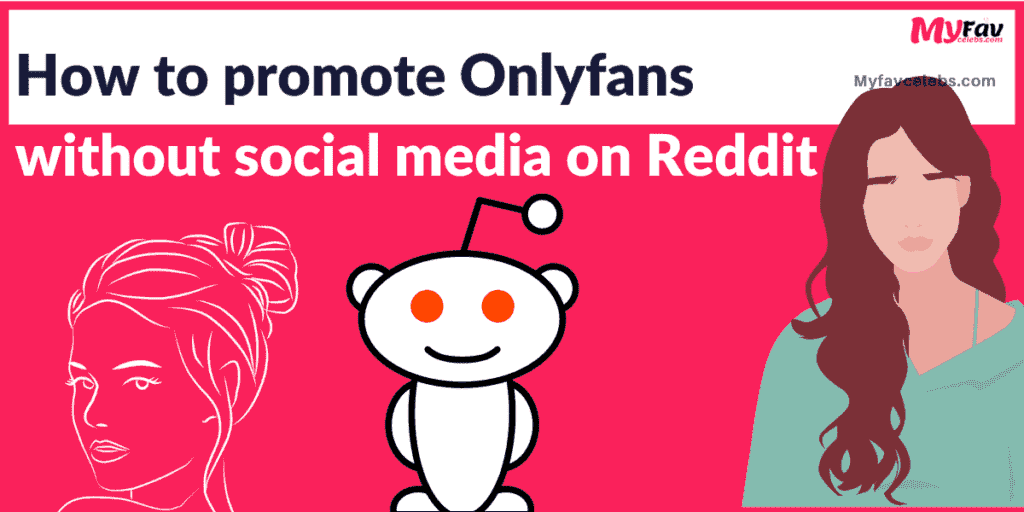 You can promote without a big social media account
1.5 Billion registered users
430 Million active monthly
Top 10 most visited sites in the world
25% of Reddit consists of NSFW
Source: Wikipedia
How to promote Onlyfans without social media on Reddit
With more than 1.5 billion users Reddit is an excellent platform. It has all keys to success: a huge user base, great viral potential, and the ability to target very specific niches.
The key to success on Reddit is to be active in the relevant subreddit for your OnlyFans account. You can find these subreddits by searching for "OnlyFans" or "NSFW" on Reddit. Once you've found the relevant subreddit, make sure to read the rules before posting anything, some subreddits set specific age or karma limits for new posts. When you're ready to post, start by sharing some of your best content in order to get upvotes. Once you've built up some karma, you can start self-promoting your OnlyFans account in your posts. Just make sure not to spam the subreddit or you'll be banned!
Read More:
Best VPN for Onlyfans Users to Stay Anonymous
Best Onlyfans Camera Setup Ultimate Guide [Updated -2022]
Why should you choose Reddit over other social media?
The answer is simple: because it works. Promoting your OnlyFans account on Reddit can be extremely effective, especially if you target the right subreddit. With a few upvotes, you can reach the front page of Reddit and get hundreds or even thousands of new fans in a single day! Furthermore, there is no filtering algorithm. This means that every online user will see your content once it gets trending. And at last, the use of anonymous accounts is a common thing on Reddit. This means that you can promote your OnlyFans account without having an established social media account.
Other platforms like Twitter or Instagram have similar potential but the fact that Reddit is seen by everyone gives it an advantage. Promoting on Twitter, for example, can be very effective but you need to have a large following base in order to get any traction. On Instagram, OnlyFans accounts are often filtered out of search results unless you use specific hashtags. This makes it difficult to reach new fans unless you already have a large following on these platforms.
So how do you get started with promoting your Onlyfans on Reddit? Below we have written a few guidelines which you should follow in order to be successful.
Find your fanbase
The most important part is finding fans that actually like your niche and would be willing to pay for it. If you're a cosplay OnlyFans, look for people who are into that scene. There are many niches, all niches can go into even deeper detail. The base level of the niche is R/Cosplay, but if you can find a smaller group within that, such as League of Legends Cosplay, or something like Cosplay Butts.
Finding your target audience is the key to success. You don't need huge social media accounts to find your Fanbase. You can easily start with a new (anonymous) account on Reddit. The disadvantage of creating a new account is that it can take a long time to gain credibility on Reddit. Furthermore, you can't create your own place (subreddit) if you are a new account. It takes around 30 days and 2500 Karma
Create a great profile and add good quality content
The first thing that your potential customer will check is your profile. If you don't have a social media profile yet, create one now. Make sure that it looks good, add some nice photos, and write a short but engaging bio.
Your profile is also a great place to post teaser content – images or videos that give potential fans a taste of what they can expect from your account without giving too much away. This is a great way to get people interested in following you, without having to spend any money on advertising.
If you already have NSFW content elsewhere online (such as an adult blog or clips), make sure to link to it in your newly created social media profile so that potential customers can see what they're getting for their money.
Connect with other users and engage with their content
People need to recognize your profile, especially if you started without a previous social media profile that was linked to your Reddit account.
The most important part is to be active in the community. Not just by posting your own content but also by engaging with other people's content. When you do this, people will start to see your profile and become curious about what kind of content you have to offer.
Make sure to comment on other people's posts, as well as upvote/downvote when appropriate. If you can, try to contribute something useful or funny to the conversation so that people remember you.
You should also post your own content regularly. This doesn't need to be anything NSFW or erotic – a couple of (normal) images or videos per week is plenty. The important thing is to keep your account active so that you can attract more potential customers
Monitor your analytics to see how well you're doing
The great thing about Reddit is that you can monitor your traffic and see how well you're doing.
This is important because it will help you to adjust your strategy if you're not getting the results that you want. For example, if you're not getting many views on your posts, it might be because your target audience is in a different subreddit.
It's also worth monitoring what kind of content is doing well and what isn't. This way, you can adjust your content strategy to ensure that you're creating content that people actually want to see.
This is just a basic guide on how to get started with promoting your OnlyFans account without social media. If you follow these steps, you should start seeing results within a few weeks. However, it's important to remember that success on OnlyFans takes time and perseverance. Don't give up if you don't see results immediately – keep working at it and eventually, you'll start seeing the payoff. Thanks for reading! Promote away! 🙂
Karma and post limitations
Once you start your journey on Reddit you might notice that your posts will be automatically removed on most subreddits. This is due to the fact that many Subreddits implement minimum karma and age requirements to post there.
The good news is that there are ways to get around this. One way is to find a subreddit that doesn't have these requirements and post your content there. Another way is to buy so-called aged Reddit accounts. The advantage of buying these accounts is that they already have the minimum karma requirement, so you can start posting right away. Viralboost is a seller of aged, high karma Reddit accounts.
Advantages of buying a viral boost are:
Instant delivery of your bought account
Safely pay with PayPal, Creditcard, or Crypto
All orders are protected by the Viralboost guarantee
So, this was all about promoting onlyfans on reddit.
FAQs

Hey, Guys! Myfavcelebs here. I am a passionate celebrity writer. Hope you are enjoying and loving My free Celebrity updates, News, Wiki, Biography, tips, and growth hacks.
Stay tuned with us! and learn what is beneficial for you!
Grow more and earn more.
Best Regards
Myfavcelebs (Author )